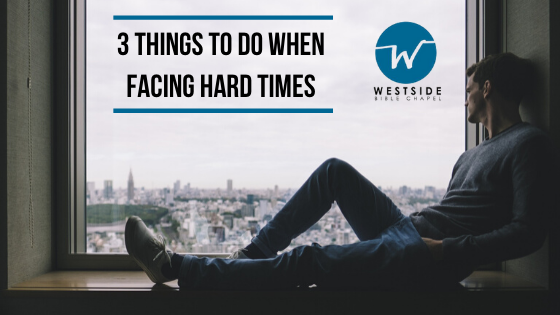 In our last blog post, we saw that as long as we are in the world, hard times are bound to come. They are inevitable. No one enjoys hard times, but sometimes God allows them to test our faith in him.
The truth is – we ALL go through tough seasons from time to time. Currently the entire world has been affected by the coronavirus pandemic. Also, it's possible that individually we may be going through tough personal seasons.
We discussed several things we can do through tough times, including seeking God, asking God for wisdom, and keeping our focus on things that don't change - such as Gods word and his love.
What We Need to Do During Hard Times
Today we continue. We are going to look at 3 more things we can do when facing hard times.
1. Remember God's Goodness
In His entirety, God is good. There is nothing about Him that is not good. The goodness of God is one of the aspects of His glorious nature. Everything that God purposes and does for believers is good. And just as parents always want good for their children, God, our Heavenly Father wants only good for us - even when we go through tough times.
It is written, everything works for the good of those who love God. (Romans 8:28)
God gives to us only that which is good for us and that which glorifies Him in the long run, and He withholds nothing good from us.
For the LORD God is a sun and shield; the LORD bestows favor and honor. No good thing does he withhold from those who walk uprightly. (Psalms 84:11)
And the Lord passed before him and proclaimed, "The Lord, the Lord God, merciful and gracious, longsuffering, and abounding in goodness and truth" (Exodus 34:6)
Thinking upon and remembering goodness of God makes us feel confident that He is in control and not the tough times we could be experiencing which is very comforting we when are going through tough times.
2. Remember God's Providence, Guidance and Protection
Can you recall a moment in your life when you needed provision, protection or guidance, and God did things for you even when it seemed impossible?
Throughout the Bible, God demonstrates that He is our provider, and protector and guide. (See Psalms 91) Also, see below two verses from Proverbs about God's guidance and protection.
"A man's heart plans his way, but the Lord directs his steps." (Proverbs 16:9)
"But whoever listens to me will dwell safely, and will be secure, without fear of evil." (Proverbs 1:33)
No matter where we are in life, God's guidance, protection and provision are always with us. It is very important to remember that the character of God does not change even when seasons change.
3. Remember to Pray and Give Thanks
Prayer is powerful. The Word of God is full of people who prayed and great things happened. Jesus is the greatest example of prayer and the Father's answer to prayer. Most times prayer is the answer to the difficult things we may be going through.
In the book of Thessalonians, God urges us to not only rejoice but also pray without ceasing – giving thanks in everything.
Rejoice always, pray without ceasing, in everything give thanks; for this is the will of God in Christ Jesus for you (1 Thessalonians 5:18)
Do you feel hopeless and need encouragement? Contact us today at Westside Bible Chapel through our website contact form or Facebook page.