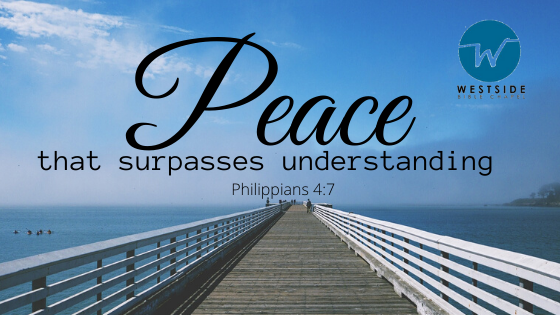 Do you remember the time when Jesus and His disciples went to the home of Mary and Martha? The sisters welcomed them and Mary went to sit at Jesus's feet to listen to what He was teaching. Martha, on the other hand, was distracted by the big dinner she was preparing for her guests and was worried and upset over all the details (Luke 10:40-41). She was a picture of anxiety and lack of peace when she approached Jesus asking, "Lord, do you not care..?"
It was a similar picture in a case when Jesus and his disciples took a boat to the other side of the lake to find some time to rest. As they crossed the sea, a huge storm arose. Jesus was sleeping on the deck. The disciples dashed to wake him and said, "Teacher, don't you care if we drown?"
Such examples show ordinary life scenarios that can easily cause panic, doubt, fear, terror and dread.
It's no different for us…
It could be the responsibility of providing for your family, wondering about your family safety, a chronic diagnosis, abuse, death and loss, anticipation of harm, global pandemics and more – ­the list is endles­­s.
The good news is that as God's children, we can experience and rely on God's peace no matter what is happening around us.
Understanding God's Peace
God's peace is not the feeling experienced when all seems well. Neither is it the absence of problems as it has nothing to do with our circumstances at all.
Peace comes from knowing that God is constantly with us. It is that innermost response and serenity that indicates a heart with complete confidence in God every minute of the day. Here are some truths about peace from God.
It has everything to do with our relationship with God and nothing to do with our circumstances
It has everything to do with knowing that our lives are in God's hands and nothing to do with daily life challenges
It has everything to do with knowing God is sufficient and nothing to do with life conditions
Walking in God's Peace
Life circumstances may tempt us to fear or become a nervous wreck. We don't have to give in. We can choose to trust God and be filled with His Peace. It is a choice we must make every day. We experience God's peace…
When we choose not to panic but to rest in His presence
When we release dread and fear and trust God's wisdom
When we reject anxiety and remember that God is in control
When we ignore our fear and accept God's sufficiency
Receiving God's Peace
When we walk in the ways of God and walk according to the Spirit, we have instant access to God's peace. Listen to Philippians 4:6-7,
Be anxious for nothing, but in everything by prayer and supplication, with thanksgiving, let your requests be made known to God; and the peace of God, which surpasses all understanding, will guard your hearts and minds through Christ Jesus.
1. We Receive Peace through God the Father
One of the promises of God for receiving God's peace is in Isaiah 26:3
Thou will keep him in perfect peace whose mind is stayed on Thee, because he trusted in Thee.
It's true, we can't avoid challenges that may want to steal our peace. But we can know perfect peace in the midst of turmoil when we focus on God.
2. We have Peace through God the Son
Speaking about Jesus, Isaiah prophesied …'a child will be born to us, a son will be given to us ... and His name will be the Prince of Peace' (Isaiah 9:6). We receive peace through Jesus Christ.
Also take note of Romans 5:1 which says, "Therefore, having been justified by faith, we have peace with God through our Lord Jesus Christ."
3. We have Peace through the Holy Spirit
The Holy Spirit is our friend, teacher, comforter according to John 14:26. When we abide in the Word and Walk by the Spirit, we receive peace from God.
Also remember that one of the gifts of the Holy Spirit is Peace (Galatians 5:22).
4. We have Peace through God's Word
The Bible is one way that God reveals his will. When we obey God's Word, we experience God's peace.
Great peace have those who love your law, and nothing causes them to stumble (Psalms 119:165)
As believers, we can look to God our Father, God the Son, the Holy Spirit and God's Word for peace. That way we can overcome fear and panic in every situation.
Are you restless and wants to receive peace that comes from God? Contact us today at Westside Bible Chapel through our website contact form or send us a message on our Facebook page.