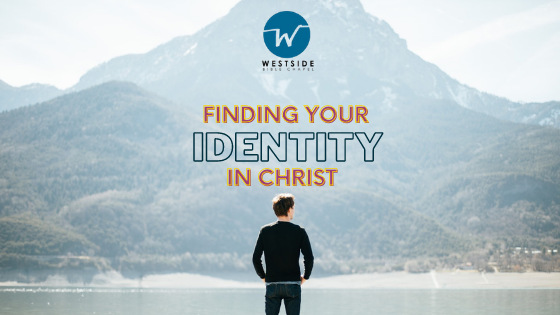 One of life's most important questions is who am I?, What defines me?, or What is my identity?
At one point in our lives, each of us will ask this question, but unfortunately, many struggle to answer this fundamental question.
Firstly, we try to base our identity on the wrong things, i.e., what we do — in terms of career, who our parents are, who we marry or are married to, what our role is in a given relationship, etc.
Secondly, our identity is formed and shaped through our individual experiences, relationships, culture, media, and the world around us throughout our lives. We are continually trying to define who we are in whichever way we can.
Should we decide to take this route where defining ourselves is concerned, we will end up being very limited. One of the most important revelations we can get from the Word of God is to understand who we are in Christ.

The Benefit of Identifying with Christ
Identifying with Christ will change the way we live and cause us to rise above adversity. Not understanding our identity in Him will keep us living far below our position and privileges in Christ.

God's desire is for each one of us to find our identity in Christ. Finding our identity in Christ is believing what God says about us in His Word. What God says about us can never be changed and will never go away.

Let's go on an incredible journey of discovering our identity in Christ.

1. Take charge of who and what you listen to
What we watch, read, and listen to affects what we think about ourselves. In a letter to the church in Rome, the apostle Paul tells us,
"And do not be conformed to this world, but be transformed by the renewing of your mind, that you may prove what is that good and acceptable and perfect will of God." (Romans 12:2)
What we consume spiritually affects how we see ourselves and our world. We should break away from anything or anyone trying to lead us in ways that are inconsistent with the teachings of Jesus Christ.
2. Read the Word to know what God says about you
One of the most important things for believers is to listen to Christ through His Word. When we understand our identity in Christ (who we are in Him; or who He says we are), it changes the way we think and live.
3. Believe what God says about you
Not only do we need to listen to Christ through the Word. We need to believe what He says about us. It's one thing to know something; it's another to accept that information as true or real. Allow those words to become a part of you and believe them.
4. Embrace who God says you are
Below is who God says you, the believer, are – Your Identity
a) You are created in God's image:
Then God said, "Let Us make man in Our image, according to Our likeness; let them have dominion over the fish of the sea, over the birds of the air, and over the cattle, over all the earth and over every creeping thing that creeps on the earth." So God created man in His own image; in the image of God He created him; male and female He created them. (Genesis 1:26-27)
b) You are uniquely designed
For You formed my inward parts; You covered me in my mother's womb. I will praise You, for I am fearfully and wonderfully made; Marvelous are Your works, And that my soul knows very well. (Psalms 139:14-14)
c) You are a new creation
If anyone is in Christ, he is a new creation; old things have passed away; behold, all things have become new (2 Corinthians 5:17)
d) You are the righteousness of Christ
For He made Him who knew no sin to be sin for us, that we might become the righteousness of God in Him (2 Corinthians 5:21)
e) You are loved unconditionally
Yet in all these things we are more than conquerors through Him who loved us. For I am persuaded that neither death nor life, nor angels nor principalities nor powers, nor things present nor things to come, nor height nor depth, nor any other created thing, shall be able to separate us from the love of God which is in Christ Jesus our Lord (Romans 8:37-39)
f) You are righteous through Christ
For He made Him who knew no sin to be sin for us, that we might become the righteousness of God in Him. (1Peter 2:24)
g) You have been made rich
For you know the grace of our Lord Jesus Christ, that though He was rich, yet for your sakes He became poor, that you through His poverty might become rich (2 Corinthians 8:9)
h) You are accepted
… to the praise of the glory of His grace, by which He made us accepted in the Beloved (Ephesians 1:6)
i) You are free from the domination and dominion of sin
For when you were slaves of sin, you were free in regard to righteousness. What fruit did you have then in the things of which you are now ashamed? For the end of those things is death. But now having been set free from sin, and having become slaves of God, you have your fruit to holiness, and the end, everlasting life. (Romans 6:20-22)
j) You are blessed
Blessed is the man Who walks not in the counsel of the ungodly, Nor stands in the path of sinners, Nor sits in the seat of the scornful; The ungodly are not so, But are like the chaff which the wind drives away. Therefore the ungodly shall not stand in the judgment, Nor sinners in the congregation of the righteous. 6 For the Lord knows the way of the righteous, But the way of the ungodly shall perish. (Psalms 1:1, 4-6)
When you give your life to Christ, God changes your identity:
From SINNER to CHRISTIAN

From LOST to FOUND

From ENEMY to FRIEND

From UNRIGHTEOUS to RIGHTEOUS

From SICK to HEALED

From POOR to RICH

From CURSED to BLESSED
Once you understand your new identity in Christ, you will be a stronger and more stable Christian, your faith will work better for you, your prayer life will be enhanced, and you will be able to walk in a new level of authority.
Want to know more about your identity in Christ? Contact us today at Westside Bible Chapel through our website contact form or Facebook Page.