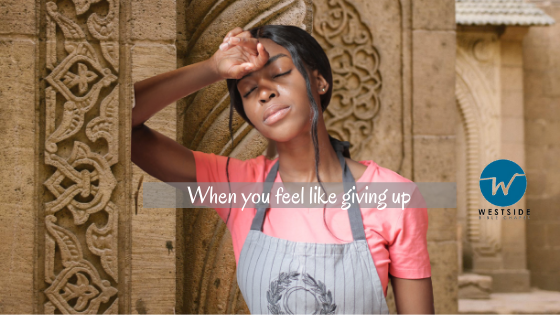 Life is a journey with ups and downs that we all go through. When going through the bad times, it's easy to feel overwhelmed. Usually, the natural response is to give up or throw in the towel.
We feel like giving up on a relationship that does not seem to be working. Giving up on a promise from God that seemingly is taking too long to manifest. Giving up on businesses that are not doing well. Giving up on a difficult career path. Giving up on other things that feel so difficult to go through.
We're good at giving up.
We also go through times when we feel like giving up on God, especially when He feels so distant or is not coming through for us as we would expect or hope.
1 Kings Chapter 19 narrates a very good example relating to this. Elijah had come to a place where he gave up and wanted to die after a threat from Jezebel.
But he himself went a day's journey into the wilderness, and came and sat down under a broom tree. And he prayed that he might die, and said, "It is enough! Now, Lord, take my life, for I am no better than my fathers!" (1 Kings 19:4)
The interesting thing is God's immediate response to Elijah in V7. See below.
And the angel of the Lord came back the second time, and touched him, and said, "Arise and eat, because the journey is too great for you." 1 Kings 19:7
In this article, we would like to explore why giving up is not an option and what we should do when we feel like giving up.
1. Pray and tell God exactly what you feel
When you feel like giving up, run to God, pour out your heart to him and turn over the weight to Him. David would tell God exactly what He felt.
O my God, my soul is cast down within me; Therefore I will remember You from the land of the Jordan, And from the heights of Hermon, From [g]the Hill Mizar. Deep calls unto deep at the noise of Your waterfalls; All Your waves and billows have gone over me (Psalms 42:6-7)

… praying at all times in the Spirit, with all prayer and supplication (Ephesians 6:18)

Then He spoke a parable to them, that men always ought to pray and not lose heart (Luke 18:1)

Be anxious for nothing, but in everything by prayer and supplication, with thanksgiving, let your requests be made known to God… (Philippians 4:6)

Cast your cares on the Lord and he will sustain you; he will never let the righteous be shaken (Psalms 55:22)
2. Go back to the beginning and don't lose heart
When we get to the point of giving up, it helps to go back to where it all started and ask ourselves why we started it in the first place and what we wanted to achieve or accomplish. This will bring us into focus of the purpose of our endeavor and help to boost our morale.
And let us not grow weary while doing good, for in due season we shall reap if we do not lose heart (Galatians 6:9)

Therefore we do not lose heart. Even though our outward man is perishing, yet the inward man is being renewed day by day. For our light affliction, which is but for a moment, is working for us a far more exceeding and eternal weight of glory…( 2 Corinthians 4:16-17)

Look out for part 2 of this article next week!
Contact us through a contact form on our website Westside Bible Chapel or through our Facebook Page.