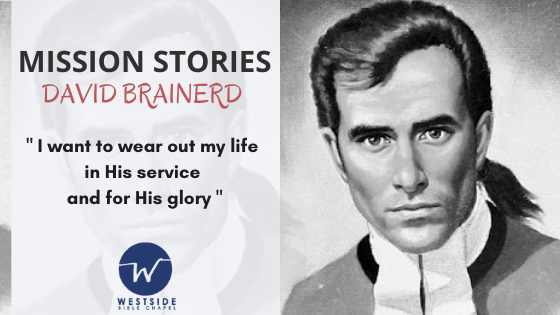 It has been stated that "David Brainerd dead" greatly influenced the missionary cause more than he did alive.
Here's his story.
Birth and Early Life
David Brainerd was born on 20th April 1718 in Haddam, Connecticut. He was the sixth of nine children of devout Christians Hezekiah and Dorothy Brainerd.
Unfortunately, David and his siblings became orphans after losing their parents to illnesses. David was fourteen.
Between ages 15-19, David went to live with one of his older sisters. Afterward, he went to study under Phinehas Fiske, his youth pastor.
He soon became a serious student of the Bible, reading through the entire Bible twice a year. In the process, he began to see that his religion was legalistic and based upon his efforts.
Preparing for Ministry
Aged 20, David entered Yale to study ministry. Unfortunately, he was sent home in his second year due to an illness now believed to be tuberculosis.
When he reported back, tension and awakening prompted by visiting staff regarding spiritual enthusiasm were high between the faculty staff and the students.
As a result, Yale passed a law that "If any student of this College shall directly or indirectly say, that the Rector, either of the Trustees or Tutors are hypocrites, carnal or unconverted men, he shall for the first offense make a public confession in the hall, and for the second offense be expelled."
David was then overheard commenting on the spiritual state of a teacher and expelled from the college.
A Man of Prayer
David spent much of his time studying and praying privately, seeking God for direction for his life out of school.
He would set aside days of long hours in prayer, fasting, and meditation in search of God.
All I want is to be more holy, more like my dear Lord — David Brainerd.
On his 24th birthday, David wrote, "...I hardly ever so longed to live to God and to be altogether devoted to Him; I wanted to wear out my life in his service and for his glory..."
Brainerd's prayer life continues to impact many believers to this day, and the reason why William Cowper stated, "Satan trembles when he sees the weakest saint upon his knees."
Despite his immense struggles, Brainerd never gave up. He never gave up on his faith. He never gave up investing hours on his knees, crying out in prayer.
David would urge young ministers who came to see him engage in frequent days of private prayer and fasting because of how useful it was.
Preaching and Ministry to Indians
Brainerd was licensed to preach in Connecticut in July 1742.
The central theme of his preaching was the cross of Jesus Christ. His preaching was so anointed that potentially aggressive tribes would weep at his message. Skeptical whites would come to the meetings to mock him, only for themselves to get converted.
Soon the Scottish Society of the Propagation of Christian Knowledge appointed him as their missionary to the Indians.
It was a common sight to find this man of God calling out and weeping for God's mercy to save the Indians.
Here am I, Lord, send me. Send me to the ends of the earth. Send me to the rough, the savage pagans of the wilderness — David Brainerd.
He had a fruitful ministry among the Delaware Indians of New Jersey.
He endured harsh weather conditions, deprivation, sickness, and personal suffering in his drive to press on to each new tribal village with the good news.
A Legacy in Missions
David Brainerd was one of the first American missionaries to carry the gospel message to the Native Americans in New Jersey, New York, and eastern Pennsylvania.
Let me forget the world and be swallowed up in the desire to glorify God — David Brainerd.
Unfortunately, his ministry was with frequent illnesses, trials, and suffering.
He only lived 29 years and only four as a missionary. Yet his mission life has impacted many people, including Jonathan Edwards, William Carey, John Wesley, Andrew Murray, David Livingston, and Jim Elliot.
I want to wear out my life in His service and for His glory — David Brainerd.
In his journal, he wrote about prayer, self-sacrifice, and devotion that would later inspire and motivate hundreds to become messengers of the cross of Jesus Christ.
David Brainerd's life sacrifice reached out and touched the whole world, challenging many people into Christian service than perhaps any other man that ever lived.
To learn more about God, talk to us at Westside Bible Chapel. You can reach us through the contact form on our website or message us through our Facebook page.