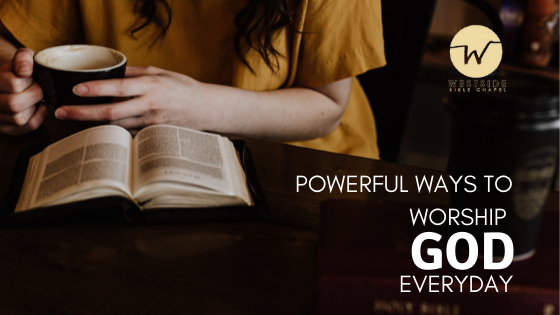 As believers, worshipping God—having and flowing with an attitude of lowly submission to His authority, might, power, faithfulness, provision—should be a lifestyle.
God is worthy of our worship because He created all things.
As written in Revelation 4:11, God is worthy to receive glory and honor and power for He created all things, and by His will they created and have their being.
It's only because of Him that we live and move and have our being.
Well, it's easy to worship God when gathered with others in a physical building on a fine Sunday morning. Also, worship is not limited to singing praises to God. So, how can we worship God all day long amidst tight work schedules?
Here are some ways you can do every day to worship God.
#1. Start your day with God
Before getting about any other daily activity, we can worship God by starting our day with Him through acknowledging His sustenance through the night, yearning for His voice and leading for the day - committing our day to Him.
I lie down and sleep; I wake again, because the Lord sustains me (Psalms 3:5)

In the morning, LORD, you hear my voice; in the morning I lay my requests before you and wait expectantly (Psalms 5:3)

Commit to the Lord whatever you do, and he will establish your plans (Proverbs 16:3)
#2. Worship God through praise and thanksgiving
The Word of God calls us to praise and give thanks to God. This is something we can do daily in worship of God.
Therefore by Him let us continually offer the sacrifice of praise to God, that is, the fruit of our lips, giving thanks to His name (Hebrews 13:15)

Praise the Lord! Praise the Lord, O my soul! While I live I will praise the Lord; I will sing praises to my God while I have my being (Psalms 146:1-2)
Praise God by telling Him God how great He is, thank Him for His creation, praise Him for His love, His forgiveness, His goodness, His patience, His abilities, His help, and more.
#3. Read and Meditate on God's Word
Another way to worship God every day is by learning and meditating on God's Word.
But his delight is in the law of the Lord, and on his law he meditates day and night (Psalms 1:2)

All Scripture is given by inspiration of God, and is profitable for doctrine, for reproof, for correction, for instruction in righteousness, that the man of God may be complete, thoroughly equipped for every good work (2 Timothy 3:16)
#4. Worship God through prayer
Going to God in prayer by faith is another form of worship that brings us closer to Him.
Draw near to God and He will draw near to you (James 4:8)
It shows our humility before him. We can pray silently or loudly. We can pray by ourselves or with others. We can pray at any time of the day or night.
Then He spoke a parable to them that men always ought to pray and not lose heart… (Luke 18:1)

Watch and pray, lest you enter into temptation. The spirit indeed is willing, but the flesh is weak (Matthew 26:41)
#5. Express yourself in physical movement
We can use the following actions as a form of worship to God.
Bow down - Come, let us worship and bow down, let us kneel before the Lord our Maker (Psalms 95:6)
Singing - "Make a joyful shout to the Lord, all you lands! Serve the Lord with gladness; Come before His presence with singing." (Psalms 100:1-2)
Clapping - Clap your hands, all you nations; shout to God with cries of joy ( Psalm 47:1)
Lifting hands - "I will praise you as long as I live, and in your name I will lift up my hands."( Psalm 63:4)
Playing instruments - Praise the Lord with the harp; make music to him on the ten stringed lyre. Sing to him a new song; play skillfully, and shout for joy." (Psalm 33:2, 3)
To learn more about prayer, talk to us at Westside Bible Chapel. You can reach us through the contact form on our website or message us through our Facebook page.