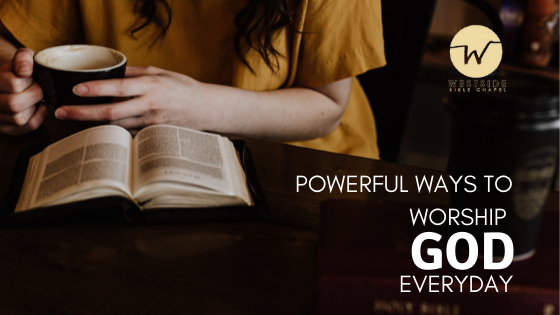 As believers, worshipping God—having and flowing with an attitude of lowly submission to His authority, might, power, faithfulness, provision—should be a lifestyle.
God is worthy of our worship because He created all things.
As written in Revelation 4:11, God is worthy to receive glory and honor and power for He created all things, and by His will they created and have their being.
It's only because of Him that we live and move and have our being.
Well, it's easy to worship God when gathered with others in a physical building on a fine Sunday morning. Also, worship is not limited to singing praises to God. So, how can we worship God all day long amidst tight work schedules?
Here are some ways you can do every day to worship God.
#1. Start your day with God
Before getting about any other daily activity, we can worship God by starting our day with Him through acknowledging His sustenance through the night, yearning for His voice and leading for the day - committing our day to Him.
I lie down and sleep; I wake again, because the Lord sustains me (Psalms 3:5)

In the morning, LORD, you hear my voice; in the morning I lay my requests before you and wait expectantly (Psalms 5:3)

Commit to the Lord whatever you do, and he will establish your plans (Proverbs 16:3)
#2. Worship God through praise and thanksgiving
The Word of God calls us to praise and give thanks to God. This is something we can do daily in worship of God.
Therefore by Him let us continually offer the sacrifice of praise to God, that is, the fruit of our lips, giving thanks to His name (Hebrews 13:15)

Praise the Lord! Praise the Lord, O my soul! While I live I will praise the Lord; I will sing praises to my God while I have my being (Psalms 146:1-2)
Praise God by telling Him God how great He is, thank Him for His creation, praise Him for His love, His forgiveness, His goodness, His patience, His abilities, His help, and more.
#3. Read and Meditate on God's Word
Another way to worship God every day is by learning and meditating on God's Word.
But his delight is in the law of the Lord, and on his law he meditates day and night (Psalms 1:2)

All Scripture is given by inspiration of God, and is profitable for doctrine, for reproof, for correction, for instruction in righteousness, that the man of God may be complete, thoroughly equipped for every good work (2 Timothy 3:16)
#4. Worship God through prayer
Going to God in prayer by faith is another form of worship that brings us closer to Him.
Draw near to God and He will draw near to you (James 4:8)
It shows our humility before him. We can pray silently or loudly. We can pray by ourselves or with others. We can pray at any time of the day or night.
Then He spoke a parable to them that men always ought to pray and not lose heart… (Luke 18:1)

Watch and pray, lest you enter into temptation. The spirit indeed is willing, but the flesh is weak (Matthew 26:41)
#5. Express yourself in physical movement
We can use the following actions as a form of worship to God.
Bow down - Come, let us worship and bow down, let us kneel before the Lord our Maker (Psalms 95:6)
Singing - "Make a joyful shout to the Lord, all you lands! Serve the Lord with gladness; Come before His presence with singing." (Psalms 100:1-2)
Clapping - Clap your hands, all you nations; shout to God with cries of joy ( Psalm 47:1)
Lifting hands - "I will praise you as long as I live, and in your name I will lift up my hands."( Psalm 63:4)
Playing instruments - Praise the Lord with the harp; make music to him on the ten stringed lyre. Sing to him a new song; play skillfully, and shout for joy." (Psalm 33:2, 3)
To learn more about prayer, talk to us at Westside Bible Chapel. You can reach us through the contact form on our website or message us through our Facebook page.
---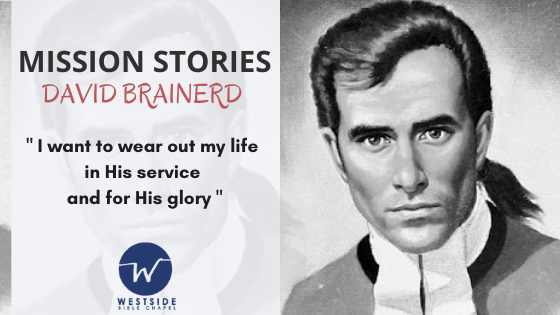 It has been stated that "David Brainerd dead" greatly influenced the missionary cause more than he did alive.
Here's his story.
Birth and Early Life
David Brainerd was born on 20th April 1718 in Haddam, Connecticut. He was the sixth of nine children of devout Christians Hezekiah and Dorothy Brainerd.
Unfortunately, David and his siblings became orphans after losing their parents to illnesses. David was fourteen.
Between ages 15-19, David went to live with one of his older sisters. Afterward, he went to study under Phinehas Fiske, his youth pastor.
He soon became a serious student of the Bible, reading through the entire Bible twice a year. In the process, he began to see that his religion was legalistic and based upon his efforts.
Preparing for Ministry
Aged 20, David entered Yale to study ministry. Unfortunately, he was sent home in his second year due to an illness now believed to be tuberculosis.
When he reported back, tension and awakening prompted by visiting staff regarding spiritual enthusiasm were high between the faculty staff and the students.
As a result, Yale passed a law that "If any student of this College shall directly or indirectly say, that the Rector, either of the Trustees or Tutors are hypocrites, carnal or unconverted men, he shall for the first offense make a public confession in the hall, and for the second offense be expelled."
David was then overheard commenting on the spiritual state of a teacher and expelled from the college.
A Man of Prayer
David spent much of his time studying and praying privately, seeking God for direction for his life out of school.
He would set aside days of long hours in prayer, fasting, and meditation in search of God.
All I want is to be more holy, more like my dear Lord — David Brainerd.
On his 24th birthday, David wrote, "...I hardly ever so longed to live to God and to be altogether devoted to Him; I wanted to wear out my life in his service and for his glory..."
Brainerd's prayer life continues to impact many believers to this day, and the reason why William Cowper stated, "Satan trembles when he sees the weakest saint upon his knees."
Despite his immense struggles, Brainerd never gave up. He never gave up on his faith. He never gave up investing hours on his knees, crying out in prayer.
David would urge young ministers who came to see him engage in frequent days of private prayer and fasting because of how useful it was.
Preaching and Ministry to Indians
Brainerd was licensed to preach in Connecticut in July 1742.
The central theme of his preaching was the cross of Jesus Christ. His preaching was so anointed that potentially aggressive tribes would weep at his message. Skeptical whites would come to the meetings to mock him, only for themselves to get converted.
Soon the Scottish Society of the Propagation of Christian Knowledge appointed him as their missionary to the Indians.
It was a common sight to find this man of God calling out and weeping for God's mercy to save the Indians.
Here am I, Lord, send me. Send me to the ends of the earth. Send me to the rough, the savage pagans of the wilderness — David Brainerd.
He had a fruitful ministry among the Delaware Indians of New Jersey.
He endured harsh weather conditions, deprivation, sickness, and personal suffering in his drive to press on to each new tribal village with the good news.
A Legacy in Missions
David Brainerd was one of the first American missionaries to carry the gospel message to the Native Americans in New Jersey, New York, and eastern Pennsylvania.
Let me forget the world and be swallowed up in the desire to glorify God — David Brainerd.
Unfortunately, his ministry was with frequent illnesses, trials, and suffering.
He only lived 29 years and only four as a missionary. Yet his mission life has impacted many people, including Jonathan Edwards, William Carey, John Wesley, Andrew Murray, David Livingston, and Jim Elliot.
I want to wear out my life in His service and for His glory — David Brainerd.
In his journal, he wrote about prayer, self-sacrifice, and devotion that would later inspire and motivate hundreds to become messengers of the cross of Jesus Christ.
David Brainerd's life sacrifice reached out and touched the whole world, challenging many people into Christian service than perhaps any other man that ever lived.
To learn more about God, talk to us at Westside Bible Chapel. You can reach us through the contact form on our website or message us through our Facebook page.
---
Talking to God in the form of a consistent prayer is crucial. It is a great privilege, a fervent struggle, and a powerful encounter through the Holy Spirit who teaches and helps us in our weaknesses even in praying.
In His Word, God continually invites us to pray.
…by prayer and petition, with thanksgiving, present your requests to God (Philippians 4:6)

…Yet you do not have because you do not ask (James 4:2)

Therefore the Lord will wait, that He may be gracious to you;
And therefore He will be exalted, that He may have mercy on you. For the Lord is a God of justice; blessed are all those who wait for Him. (Isaiah 30:18-19)
Welcome to Part 3. This is the last blog post in the 'How to develop a strong prayer life' series.
In our last two posts, we shared approaches that can help us strengthen our prayer life. (Read part 1 & 2 under the resources tab on our blog)
In this article, we'll discuss a few more ways for helping us develop a strong prayer life.
Let's get started.
#1 Balance your Prayer Life
Go beyond what is comfortable by stretching yourself to include all types of Bible based prayers.
We have discussed praise and thanksgiving in Part 2.
On top of that, we need to pray different types of prayer including supplications, petitions, prayer of confession, declarations and practice meditation of God's verses and pray God's will.
Intimacy: Concentrating on loving and devotion to God through worship, praise, reading and meditating on the Word and fellowship with the Holy Spirit.
Petition: Asking for God's blessings in your personal life and ministry. Pray for your faith journey, life aspects and circumstances
Intercession: Asking for Gods intervention, power or justice for other people and places
Ask and it will be given to you; seek and you will find; knock and the door will be opened to you. For everyone who asks receives; he who seeks finds; and to him who knocks, the door will be opened (Luke 11:9-10)
You can find and select verses about prayers and God answering prayers to meditate on.
The Lord's Prayer ((Matthew 6:5-15; Luke 11:1-13) presents a flow that can help balance your prayers.
It starts by acknowledging God's power and might and praise. It also has declarations of the kingdom of God happening on earth (praying God's will be done on earth as it is in heaven), confession of sins, supplications, and more.
#2 Add Fasting to Prayers
The bible tells us to fast. One of the reasons we should fast is to help us align ourselves to God which strengthens our prayers.
Fasting helps us get a stronger sense of humility, faith and dependence on God and His will. It also brings a sense of seriousness, focus and clarity to our prayers.
A few examples of people who prayed and added fasting to their prayers and got results:
Nehemiah fasted and prayed before the God of heaven and received favor from the King (Nehemiah 1:4)
Daniel strengthened his prayer life in fasting (Daniel 9:3)
Ezra and the people he was leading fasted and petitioned God to overcome the obstacles they were having in their journey (Ezra 8:23)
Also, some answers to prayer will only come if we add fasting to it Jesus advised His disciples.
However, this kind does not go out except by prayer and fasting (Matthew 17:21)
To learn more about prayer, talk to us at Westside Bible Chapel. You can reach us through the contact form on our website or message us through our Facebook page.
---