Tuesday, November 17, 2020, 11:25 am
A habit can be defined as a settled and/or acquired manner of behavior or practice followed through until it becomes almost involuntary. Habits can either be good or bad. They come with repetition. Every time we do it, it becomes more natural. Now, there's no problem with a good habit. Nevertheless, bad habits can be destructive.
What does the Bible say about breaking a bad habit? Are there biblical strategies for stopping unwanted behavior? For believers, the power to break bad habits comes from the Holy Spirit, but we have to be willing to do it.
We are going to look at 7 biblical tips to help you break a bad habit.
1. Admit you have a bad habit
A sin and a habit are not the same thing; sometimes they can be the same thing but not always. The best approach to stop sinning or drop a bad habit starts by first admitting "this is bad and it needs to stop". Justifying the sin or habit in our minds is what causes it to persist.
He who covers his sins will not prosper, but whoever confesses and forsakes them will have mercy (Proverbs 28:13)
When you continue to justify your bad habit(s) your sin nature will take that opportunity and keep you stuck.
2. Clearly define why you need to break the bad habit
The Bible motivates Christians to stop sins and bad habits by clearly defining the negative consequences or punishment that will occur should the sin or bad behaviour continue.
Do not be deceived, God is not mocked; for whatever a man sows, that he will also reap. For he who sows to his flesh will of the flesh reap corruption, but he who sows to the Spirit will of the Spirit reap everlasting life. (Galatians 6:7-8)
Listing all the negative things that the bad habit is causing in your life and the lives of those closest to you will help you begin to visualize what life would be like without these bad things in your life.
3. Be specific in identifying the habit you need to break
You will never change until you commit to change. This calls for you to be very specific and deliberate. Writing it down in definite, concise language and putting the note in the place you find yourself usually engaging in the bad habit will act as a regular reminder.
4. Seek God's help
Change is hard. It's no wonder that the first response to change of any kind is resistance. God knows and understands the struggles that we face and He encourages us to come to Him for the extra help we need.
For we do not have a High Priest who cannot sympathize with our weaknesses, but was in all points tempted as we are, yet without sin. Let us therefore come boldly to the throne of grace that we may obtain mercy and find grace to help in time of need. (Hebrews 4:15-16)
5. Have an accountability partner
Get someone you respect and can listen to. A mature Christian will play this role very well. They will point you back on the right track should you start going back or astray. They will also be there to celebrate and cheer you on in the time of victory.
Two are better than one, because they have a good reward for their labor. For if they fall, one will lift up his companion. But woe to him who is alone when he falls, for he has no one to help him up. (Ecclesiastes 4:9-10)
6. Replace the bad habit with a good habit
It will be very easy to slip back into a bad habit simply because you did not redirect your energy toward something else. A good new habit is a welcome "replacement" for the bad habit that you want to break.
When you heard about Christ and were taught in him in accordance with the truth that is in Jesus. You were taught, with regard to your former way of life, to put off your old self, which is being corrupted by its deceitful desires; to be made new in the attitude of your minds; and to put on the new self, created to be like God in true righteousness and holiness. (Ephesians 4:22-24)
7. Stay positive, even when there are setbacks
There is a temptation to become very hard on yourself once you embark on the journey towards change. It is easy to feel so discouraged by a setback that you give up or think that you have completely failed. Refuse to allow an attitude of failure or negativity to get a hold of you.
Remain positive and hopeful that you will make it knowing you can do all things through Christ, who is our strength. (Philippians 4:13).
Praying point: Father, I call out to You now with my whole heart and ask You to free me from this bad habit (call it by name) and the effect it has on my life by the power of Your Holy Spirit in Jesus Name, Amen.
Do you want to know more about God? Contact us today at Westside Bible Chapel through our website contact form or Facebook Page.
---
Thursday, November 12, 2020, 09:21 am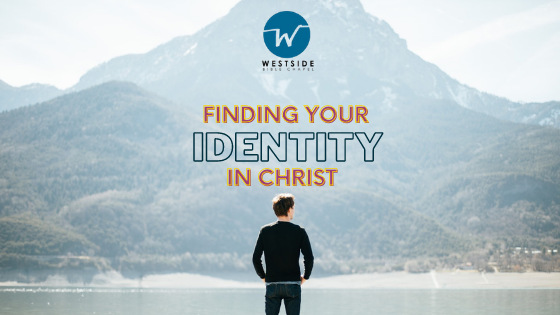 One of life's most important questions is who am I?, What defines me?, or What is my identity?
At one point in our lives, each of us will ask this question, but unfortunately, many struggle to answer this fundamental question.
Firstly, we try to base our identity on the wrong things, i.e., what we do — in terms of career, who our parents are, who we marry or are married to, what our role is in a given relationship, etc.
Secondly, our identity is formed and shaped through our individual experiences, relationships, culture, media, and the world around us throughout our lives. We are continually trying to define who we are in whichever way we can.
Should we decide to take this route where defining ourselves is concerned, we will end up being very limited. One of the most important revelations we can get from the Word of God is to understand who we are in Christ.

The Benefit of Identifying with Christ
Identifying with Christ will change the way we live and cause us to rise above adversity. Not understanding our identity in Him will keep us living far below our position and privileges in Christ.

God's desire is for each one of us to find our identity in Christ. Finding our identity in Christ is believing what God says about us in His Word. What God says about us can never be changed and will never go away.

Let's go on an incredible journey of discovering our identity in Christ.

1. Take charge of who and what you listen to
What we watch, read, and listen to affects what we think about ourselves. In a letter to the church in Rome, the apostle Paul tells us,
"And do not be conformed to this world, but be transformed by the renewing of your mind, that you may prove what is that good and acceptable and perfect will of God." (Romans 12:2)
What we consume spiritually affects how we see ourselves and our world. We should break away from anything or anyone trying to lead us in ways that are inconsistent with the teachings of Jesus Christ.
2. Read the Word to know what God says about you
One of the most important things for believers is to listen to Christ through His Word. When we understand our identity in Christ (who we are in Him; or who He says we are), it changes the way we think and live.
3. Believe what God says about you
Not only do we need to listen to Christ through the Word. We need to believe what He says about us. It's one thing to know something; it's another to accept that information as true or real. Allow those words to become a part of you and believe them.
4. Embrace who God says you are
Below is who God says you, the believer, are – Your Identity
a) You are created in God's image:
Then God said, "Let Us make man in Our image, according to Our likeness; let them have dominion over the fish of the sea, over the birds of the air, and over the cattle, over all the earth and over every creeping thing that creeps on the earth." So God created man in His own image; in the image of God He created him; male and female He created them. (Genesis 1:26-27)
b) You are uniquely designed
For You formed my inward parts; You covered me in my mother's womb. I will praise You, for I am fearfully and wonderfully made; Marvelous are Your works, And that my soul knows very well. (Psalms 139:14-14)
c) You are a new creation
If anyone is in Christ, he is a new creation; old things have passed away; behold, all things have become new (2 Corinthians 5:17)
d) You are the righteousness of Christ
For He made Him who knew no sin to be sin for us, that we might become the righteousness of God in Him (2 Corinthians 5:21)
e) You are loved unconditionally
Yet in all these things we are more than conquerors through Him who loved us. For I am persuaded that neither death nor life, nor angels nor principalities nor powers, nor things present nor things to come, nor height nor depth, nor any other created thing, shall be able to separate us from the love of God which is in Christ Jesus our Lord (Romans 8:37-39)
f) You are righteous through Christ
For He made Him who knew no sin to be sin for us, that we might become the righteousness of God in Him. (1Peter 2:24)
g) You have been made rich
For you know the grace of our Lord Jesus Christ, that though He was rich, yet for your sakes He became poor, that you through His poverty might become rich (2 Corinthians 8:9)
h) You are accepted
… to the praise of the glory of His grace, by which He made us accepted in the Beloved (Ephesians 1:6)
i) You are free from the domination and dominion of sin
For when you were slaves of sin, you were free in regard to righteousness. What fruit did you have then in the things of which you are now ashamed? For the end of those things is death. But now having been set free from sin, and having become slaves of God, you have your fruit to holiness, and the end, everlasting life. (Romans 6:20-22)
j) You are blessed
Blessed is the man Who walks not in the counsel of the ungodly, Nor stands in the path of sinners, Nor sits in the seat of the scornful; The ungodly are not so, But are like the chaff which the wind drives away. Therefore the ungodly shall not stand in the judgment, Nor sinners in the congregation of the righteous. 6 For the Lord knows the way of the righteous, But the way of the ungodly shall perish. (Psalms 1:1, 4-6)
When you give your life to Christ, God changes your identity:
From SINNER to CHRISTIAN

From LOST to FOUND

From ENEMY to FRIEND

From UNRIGHTEOUS to RIGHTEOUS

From SICK to HEALED

From POOR to RICH

From CURSED to BLESSED
Once you understand your new identity in Christ, you will be a stronger and more stable Christian, your faith will work better for you, your prayer life will be enhanced, and you will be able to walk in a new level of authority.
Want to know more about your identity in Christ? Contact us today at Westside Bible Chapel through our website contact form or Facebook Page.
---
Monday, November 2, 2020, 09:36 am
To fully understand the power and purpose of worship, it is necessary to first understand the meaning of worship.
According to a dictionary, worship is a noun meaning: "reverent honor and homage paid to God or a sacred personage or any object regarded as sacred. It is a sign of surrender and an altogether abandoning self to God."
In Romans 12, Paul brings out the fact that worship is a spiritual thing that starts from the inside and begins with our first offering of ourselves.
I beseech you therefore, brethren, by the mercies of God, that you present your bodies a living sacrifice, holy, acceptable to God, which is your reasonable service (Romans 12:1)
Before it can become an outward act, worship starts in the heart, and that is why Jesus made a distinction in Matthew 15:8-9
"These people honor me with their lips, but their heart is far from me; in vain do they worship me."
As far as Jesus was concerned, if the heart is not there, then there is no worship, and whatever is done amounts to zero. All true worship is, in essence, a matter of the heart.
From the above definition, true worship would mean valuing or treasuring God above all things.
Our worship needs to be based on a right understanding of God's nature.
With the above background, let's look at a few highlights.
1. Worship Brings God Pleasure
First and most importantly, we need to understand that we were created to, above all things, bring God pleasure, and one of the ways of bringing God pleasure is by worship.
When people go before a King or a President, they would typically start by praising or talking good of the King or President before they state what has brought them. As a result, this melts the king's heart or president, and it becomes easy for him to listen to their request.
For by Him all things were created that are in heaven and that are on earth, visible and invisible, whether thrones or dominions or principalities or powers. All things were created through Him and for Him (Colossians 1:16)
"You are worthy, O Lord, To receive glory and honor and power; For You created all things, And by Your will they exist and were created " (Revelation 4:11)
2. Worship shifts our Focus on God
True worship starts with a desire to honor God, which requires one to have a personal knowledge of God as found in God's word.
It's important to note that workship is not based on your personal preferences or priorities. It is based on a right understanding of God's nature, and a correct evaluation of God's worth. As a result, worship should take into first consideration, "What does God like and want from me." This is in stark contrast to the attitude that says, "What do I like, and how do I want to worship?"
3. Worship Involves the Surrendering of our Lives
Apostle Paul in Romans 12 brings out the fact that worship is a spiritual thing that starts from the inside and begins with our first offering of ourselves.
I beseech you therefore, brethren, by the mercies of God, that you present your bodies a living sacrifice, holy, acceptable to God, which is your reasonable service (Romans 12:1)
4. Worship has the Element of Personal Sacrifice
It is easier to worship when times are good or when we have had a big victory. But worship hits it's pinnacle when it requires us to sacrifice our own feelings and fears to give Him the focus He deserves.
Therefore by Him let us continually offer the sacrifice of praise to God, that is, the fruit of our lips, giving thanks to His name. (Hebrews 13:15)
5. Worship Recognizes the Presence of the Lord in the Midst of His People
When a group of God's people come together to sing His glorious praise, He "inhabits" those praises and, in a unique way, reveals His presence among His people as they worship.
But You are holy, Enthroned in the praises of Israel. (Psalm 22:3)

Indeed it came to pass, when the trumpeters and singers were as one, to make one sound to be heard in praising and thanking the Lord, and when they lifted up their voice with the trumpets and cymbals and instruments of music, and praised the Lord, saying: "For He is good,For His mercy endures forever," that the house, the house of the Lord, was filled with a cloud, so that the priests could not continue ministering because of the cloud; for the glory of the Lord filled the house of God. (2 Chronicles 5:13-14)
6. Worship is What We Need During the Time of Loss and Pain
King David modeled for us what it means to worship in the face of loss and pain when he lost his baby. He prayed earnestly before the death of the baby, but the baby still died. The loss of loved ones is a very painful experience, and especially when it involves one's child. After the baby died, the Bible tells us—
So David arose from the ground, washed and anointed himself, and changed his clothes; and he went into the house of the Lord and worshiped. (2 Sam 12:20)
7. Worship Helps us Celebrate who God is and What God has Done
Psalms 100 bring out this so powerfully.
Make a joyful shout to the Lord, all you lands! Serve the Lord with gladness; Come before His presence with singing. Know that the Lord, He is God; It is He who has made us, and not we ourselves; We are His people and the sheep of His pasture. Enter into His gates with thanksgiving, And into His courts with praise. Be thankful to Him, and bless His name. For the Lord is good; His mercy is everlasting, And His truth endures to all generations.
Do you want to know more about the power and purpose of Worship? Contact us today at Westside Bible Chapel through our website contact form or Facebook Page.
---