Saturday, September 23, 2023, 07:20 am
Gladys Aylward was a missionary to China who significantly contributed to the spread of Christianity and the betterment of communities through her faith and humanitarian efforts. She was known as the Small Woman because of her small stature, but she had a big heart and a significant impact on many people's lives, inspiring Christians everywhere.

Oh God, here's my Bible, Here's my money. Here's me. Use me, God - Glady's Aylward
Here is a story that illustrates Gladys' compassion, determination and courage as a missionary.

Early Life and Education
Gladys Aylward was born in London, England, on February 24, 1902, into a working-class and church-going family. She grew up in a humble background, with limited formal education.
Her limited education made it challenging for her to pursue a career. So she worked as a parlor maid and later as a housemaid, saving money to attend a Bible college.

Gladys had a persistent desire to learn more about the Bible, a strong determination and a deep purpose that would lead her on an extraordinary mission journey.

Salvation and Missions Call
In her mid-twenties, Gladys attended a revival meeting and experienced an intense spiritual awakening where the gospel challenged her. By the time she left the meeting, she had become a Christian, and the focus of her life changed completely.

Gladys then joined the Young Life Campaign and spent her free time learning to share the good news of Jesus Christ. With time, she learned about the many people in China who had never heard the gospel through one of the campaign magazines. She felt a calling from God to become a missionary in China, and this marked the beginning of her extraordinary mission journey.

Gladys registered as a candidate for the China Inland Mission in 1929 and was accepted into their training program despite her limited education. But after three months, she was asked to leave because she had failed the classroom work. Despite excelling in the practical work, the Mission felt she wouldn't be adequately prepared for the mission field.

She was disappointed but undeterred. She returned to working as a maid, determined to earn the money to travel to China. She also asked God to clear the way ahead of her, and God answered her prayer.

I wasn't God's first choice for what I've done in China...I don't know who it was...it must have been a man...a well-educated man. I don't know what happened. Perhaps he died. Perhaps he wasn't willing...and God looked down...and saw Gladys Aylward...and God said, 'Well, she's willing.'
Jeannie Lawson, a missionary in Yangcheng, Northern China, had written to the congregation asking for a young woman to help her mission work. Her employers and friends came together and gave her the necessary travel items.

The Mission Story
In 1932, aged 30, Gladys Aylward set out for China using the train. The trip was fraught with danger, including being arrested, but God supplied help through strangers until she arrived in Yangcheng to begin her missionary work.

This work was challenging because Gladys faced language barriers and cultural differences. With unwavering faith and determination, she pushed on.

If God has called you to China or any other place, and you are sure in your own heart, let nothing deter you. Remember, it is God who has called you, and it is the same as when He called Moses or Samuel - Gladys Aylward
She learned the Chinese language and started sharing stories about Jesus. Large crowds would gather in the evening to hear the 'small woman' speak. Gladys also started taking in abandoned children and offered primary medical care to people.

By 1936, Gladys felt so much at home in Yangcheng that she became a Chinese citizen.

The Prison Riot
One time, Gladys was called upon to stop a riot inside a Chinese prison. The air was tense as armed prisoners raised complaints and threatened to attack the guards.

Without fear, Gladys stepped into the midst of the commotion and, with a calming voice, asked the prisoners what they wanted. She patiently listened to their frustrations, acknowledged their anger, and said to them,

'I understand your grievances, but violence is not the path to justice. Killing the guards will only worsen our situation.'

She also noted their appalling conditions and promised to ask the officials to improve them and find practical work for the prisoners to fill their days. The prisoners were satisfied with the hope she gave them. They calmed down, lowered their weapons and returned to their cells.

Her faith, courage and compassion during the riot averted a potential tragedy, saving many lives. She demonstrated the transformative power of God's love and compassion, transcending all obstacles.

Impact
One of her most notable impacts was her work ending the foot-binding practice among Chinese women. Foot binding had been banned but not actively enforced, and Gladys was called upon to ensure the law was being followed.
The opportunity allowed her to visit homes where she convinced families to stop this harmful practice. While at it, she shared the good news about Jesus.

Gladys also became known for her courageous efforts during the wars in War 1938. By this time, she had accumulated many orphaned and abandoned children. She courageously and selflessly saved their lives by leading them over treacherous mountain terrain to safety in Free China while facing constant threats from the Japanese.

Legacy
Gladys's work and legacy inspire Christian missionaries and humanitarian workers worldwide.
Her story demonstrates that one person, driven by faith, compassion, dedication and courage, can make a significant difference in people's lives, even amidst challenges.

Glady's passed on to glory on January 3, 1970, but her impact lives on through the countless lives she touched and the enduring inspiration she left behind.

Her story is written in the book "The Small Woman" by Alan Burgess.

Looking for a church in Sydney ? Join us to learn about God each week by worshipping with the welcoming church family of Westside Bible Chapel – Sunday mornings at 11:00 a.m. For more information, contact us through our Facebook page.
---
Friday, September 15, 2023, 01:22 am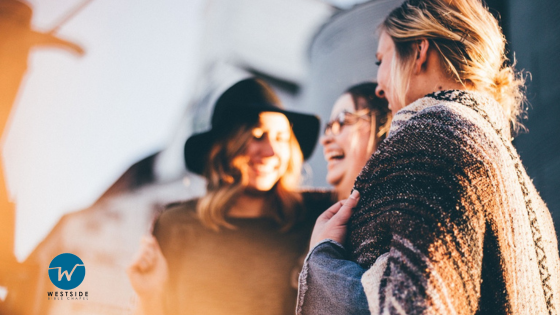 Stepping into a church for the first time can feel like walking into a room full of strangers. And while the pews may be filled with individuals you've never met, a shared sense of purpose and faith usually brings the church together.
However, attending church should not end at church services alone. It's equally important to connect with fellow worshippers, to build friendships, and develop the church's sense of community belonging.
In this blog post, we'll explore practical strategies for making friends in church to build strong connections in your spiritual community.
1. Start Conversations
Making friends can sometimes be as simple as striking up a conversation with someone new. Be friendly, approachable, smile, and greet others warmly.
Don't hesitate to introduce yourself to someone new or talk with someone you've seen at church before.
2. Join a Small Group or Ministry Team
Small groups and ministry teams in the church are great places to form friendships that lead to deeper connections with people who share your interests or passion for a particular cause.
Whether it's a choir, Bible study group, youth group, outreach team, or community outreach team, such groups offer a sense of friendship, fellowship, and purpose.
3. Volunteer for Church Activities
Volunteering is a fulfilling way to give back to your church community. But it's also an excellent way to meet new people that can become your friends.
By volunteering for church activities, you'll have the chance to work alongside other people who can become your friends.
4. Attend Social Events and Gatherings
Another best way to break the ice and make friends in church is by participating in social events and gatherings.
So, attend organized church events such as picnics, potlucks, or special events that provide opportunities to interact with church members in a more relaxed setting and easily make friends.
5. Attend Seminars and Workshops
Many churches also offer workshops or seminars on various topics, from Bible study to personal development. Attending such sessions enriches your knowledge and provides a way to engage with like-minded individuals and make friends.
6. Join Online Church Communities
In an increasingly digital age, many churches have online platforms and communities, including social media groups, where members can connect, share ideas, and support each other.
Participating in these virtual spaces can be an excellent way to build friendly relationships.
7. Be Patient and Persistent
Building meaningful and long-lasting friendships takes time, so be patient. Don't get discouraged if you don't form instant connections.
Keep attending events and engaging with others; over time, you'll likely develop meaningful relationships.
8. Offer Support and Kindness
Sometimes, friendships come out of offering someone support and kindness. Whether providing a listening ear, being there for others, or lending a helping hand to someone in need, being king and helpful becomes an avenue to make new friends.
Summary
In church communities, friendships often go beyond the superficial. They are rooted in shared beliefs and values, making them even more meaningful.
By actively attending church events, from Sunday services to other planned events and engaging in them, you'll be open to new connections that can lead to lasting friendships.
So, take that first step, reach out to someone new, join a small group and let the bonds of friendship in your church community strengthen your spirit and enrich your life.
You are welcome to join our Sunday Services. And, if you want to learn more about Faith in God? Contact us today at Westside Bible Chapel through our website contact form or Facebook page.
---
Thursday, September 7, 2023, 08:15 am
Faith is a fundamental aspect for believers that goes beyond mere belief. Faith is deep, unwavering trust and confidence in God, and the foundation upon which our spirituality and belief in God is built.
In Hebrews 11:6, we read "But without faith it is impossible to please him: for he that cometh to God must believe that he is, and that he is a rewarder of them that diligently seek him."
From this scripture, we can see that, we cannot "please God without faith …"
As Christians, it's therefore crucial to build our faith in God. In this blog post, we'll explore practical steps to help believers build real faith in God, supported by relevant scriptures.
1. Study and Meditate on Scripture
The Primary way to build true and grounded faith in God is through the wellspring of Scriptures.
So then faith comes by hearing, and hearing by the word of God. (Romans 10:17)
Regularly reading and meditating on the Word of God deepens our understanding of God and His promises.
When you make it a habit to immerse yourself in the Word, study the scriptures, attend Bible study groups, your faith will grow.
2. Cultivate a Consistent Prayerful Life
Building real faith also involves cultivating a consistent prayerful life. Prayer is a simply communing with God as a Father.
Be anxious for nothing, but in everything by prayer and supplication, with thanksgiving, let your requests be made known to God (Philippians 4:6)
Set aside a dedicated time for prayer each day. Pour out your heart to God and listen for His guidance. As you experience God's presence and witness answered prayers, your faith will be strengthened and gets built up.
3. Find a Supportive Community
A community plays a crucial role in helping inspire and build our faith.
And let us consider one another in order to stir up love and good works, not forsaking the assembling of ourselves together, as is the manner of some, but exhorting one another, and so much the more as you see the Day approaching (Hebrews 10:24-25)
Purpose to attend church services, engage in church fellowship, and participate in group activities. (You are welcome to join our Sunday services @Westside Bible Chapel)
He who walks with wise men will be wise,
But the companion of fools will be destroyed (Proverbs 13:20)

As iron sharpens iron,
So a man sharpens the countenance of his friend (Proverbs 27:17)
Share your faith journey and experiences with others in fellowships and community to help you stay strong in your faith convictions.
Join a supportive community of believers for accountability, encouragement, faith inspiration, Godly wisdom, and more.
Don't hesitate to seek guidance from spiritually mature individuals who can provide valuable insights and perspective on your faith journey. A faith mentor can help you navigate doubts and provide wisdom based on their own experiences, ultimately inspiring and growing your faith.
4. Step Out in Obedience
It's imperative to remember that faith is not passive; it requires action.
We read in James that,
'Thus also faith by itself, if it does not have works, is dead' (James 2:17)
Building real faith involves acting through obedience to God's word. Trust that God's plan is greater than your understanding, and be willing to follow His guidance, even when it seems challenging or uncertain.
But be doers of the word, and not hearers only, deceiving yourselves (James 1:22)
As you obey, you'll witness God's faithfulness, which in turn builds and strengthens your faith.
5. Embrace Tests and Trials
As much as trials and tests are challenging, the Bible says that they're opportunities for our faith to grow.
My brethren, count it all joy when you fall into various trials, knowing that the testing of your faith produces patience (James 1:2-3)
Instead of avoiding them, embrace challenges through faith in God's knowing they have a work to build your faith. Remember that God brings good out of difficult situations (Romans 8:28). When you persevere through trials, your faith becomes more resilient and steadfast.
6. Reflect on Past Faith Experiences
Take time to reflect on past experiences where your faith was tried and tested, and God came through for you. Remembering how you overcame past trials and challenges serves as powerful anchors for your faith.
"I will remember the deeds of the Lord; yes, I will remember your wonders of old." (Psalm 77:11)
When facing new challenges, recall how God has been faithful in the past, which reinforces your trust in Him, your faith in God deepens and your relationship with Him grows stronger.
Remember the words of Hebrews 11:1,
"Now faith is the assurance of things hoped for, the conviction of things not seen."
With commitment and trust in God, you can build and nurture real faith that sustains you in all seasons of life, for God's glory.
Want to learn more about Faith in God? Contact us today at Westside Bible Chapel through our website contact form or Facebook page.
---