Friday, July 23, 2021, 06:41 am
One of the greatest virtues that we should seek to cultivate is a grateful heart.
Not only is it a virtue, but also a grateful heart comes with many benefits — especially when we give thanks to God.
Let's unpack 5 wonderful benefits of giving thanks from scripture.
1. Thanksgiving Brings Glory to God
Every time that we go back to God to say thank you, we demonstrate that who we are, what we have, and what we have received is because of Him.
Therefore He is the one to take the glory or all the credit.
For all things are for your sakes, that grace, having spread through the many, may cause thanksgiving to abound to the glory of God (2 Corinthians 4:15)
2. It is God's Will for us to Give Thanks
At the center of our hearts is a desire to know God's will for us.
Looking at the scripture below, we are able to see that His will for us is to give thanks in everything.
God expects us to have a heart posture of thanksgiving at all times.
In everything give thanks; for this is the will of God in Christ Jesus for you. (1 Thessalonians 5:18)
3. Thanksgiving Brings us Peace and Calmness
Every time we find ourselves in a situation where we are in need or in a problem, we tend to be anxious, disturbed and worried.
We are normally not at peace at all.
The scripture below edifies us by telling us that we should not be anxious.
Whatever the situation, we should pray, make our supplications and let our requests be known to God with a thankful heart.
When we do that, then the Peace of God (which would not be expected given the circumstances we are in) will guard our hearts and minds through Christ Jesus.
Be anxious for nothing, but in everything by prayer and supplication, with thanksgiving, let your requests be made known to God; and the peace of God, which surpasses all understanding, will guard your hearts and minds through Christ Jesus (Philippians 4:6-7)
4. Thanksgiving Brings us Closer to God
In the scripture below, we see the story of the 10 Lepers who were healed by Jesus and then only one of them came back to "give thanks".
All of them were healed, but only one who came back to say "thank you."
Now it happened as He went to Jerusalem that He passed through the midst of Samaria and Galilee. Then as He entered a certain village, there met Him ten men who were lepers, who stood afar off. And they lifted up their voices and said, "Jesus, Master, have mercy on us!" So when He saw them, He said to them, "Go, show yourselves to the priests." And so it was that as they went, they were cleansed. And one of them, when he saw that he was healed, returned, and with a loud voice glorified God, and fell down on his face at His feet, giving Him thanks. And he was a Samaritan. So Jesus answered and said, "Were there not ten cleansed? But where are the nine? Were there not any found who returned to give glory to God except this foreigner?" And He said to him, "Arise, go your way. Your faith has made you well." (Luke 17:11-19)
He had a personal encounter with Jesus and apart from the physical healing he was made 'well' or 'whole' meaning he also got spiritual healing just because he went back to say "thank you".
5. Thanksgiving Positions us for Blessings
Then out of them shall proceed thanksgiving; and the voice of those who make merry; I will multiply them, and they shall not diminish; I will also glorify them, and they shall not be small. Their children also shall be as before, and their congregation shall be established before Me; and I will punish all who oppress them (Jeremiah 30:19-20)
Every time we give thanks to God, we are creating an environment for God to bless us even more.
Psalms 100:4-5 tells us that we are to approach God with thanks giving and praise.
Verse 5 says, we are to do this because God is good and His mercy is everlasting. Meaning if He did it yesterday, He can do it today and even tomorrow.
May God help us to be people that thankful and that gratitude will be a virtue that we can pass on to everyone with whom we come into contact each day.
If you want to know more about God and your relationship to Him, you can talk to us. Contact us through a contact form on our website Westside Bible Chapel or through our Facebook Page.
---
Saturday, July 17, 2021, 02:51 pm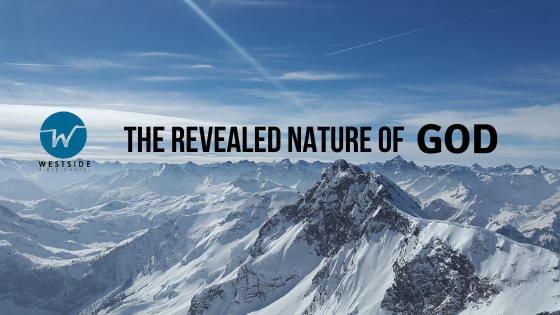 A story is told of 5 people who were asked to describe an elephant. Each one described the elephant based on a specific part. To one, the elephant was the ears. To another the trunk, to yet another, it was the tusks, etc.
Each of their descriptions were part of the elephant.
We all have a picture of who God is — right from the point of getting saved and through our faith walk. Our God is multifaceted. He has many faces and dimensions. Through God's Word and the experiences that God takes us through, we can get a good understanding of who God is.
In this article, we'll look at examples in the Bible on how God revealed himself to people who had an encounter with him.
1. The God of Promise (The God of Abraham)
In the book of Genesis, God tells Abraham to look all around and that what he sees God would give him. It shows that God is a God of promise.
And the Lord said to Abram, after Lot had separated from him: "Lift your eyes now and look from the place where you are—northward, southward, eastward, and westward; for all the land which you see I give to you and your descendants forever. (Genesis 13:14-15)
He promised Abraham children like the stars and the sand in Genesis 22:17.
And even though Abraham had to wait for God's promise to be fulfilled, it sure came to pass.
He gave Abraham a son, Isaac, and through him, numerous descendants.
To Abraham, God was a promise keeper, a miracle worker, and the light in the darkness.
From Abraham, we learn that God is a promise keeper. We can trust His Word and count on Him to fulfill his promises.
2. The God of Grace (The God of Isaac)
To live by grace is to live on someone else's account.
And the Lord appeared to him the same night and said, "I am the God of your father Abraham; do not fear, for I am with you. I will bless you and multiply your descendants for My servant Abraham's sake." (Genesis 26:24)
Isaac was living out of the account of his father's covenant relationship with God. He received favor, blessing, protection, etc., which had nothing to do with anything he had done.
Our God is a God of Grace that reaches us through Jesus Christ.
But God, who is rich in mercy, because of His great love with which He loved us, even when we were dead in trespasses, made us alive together with Christ (by grace, you have been saved). [Ephesians 2:4-5]
We receive God's blessings, redemption, justification, mercy, righteousness, and more, not because of anything we have done but because of what Jesus has done for us.
3. The God of Favor (The God of Jacob)
Favor gives you what labor can't give you. That means God's favor does for you what you cannot do for yourself.
When favor speaks, rules are broken, protocols are set aside, and requirements are overlooked.
In the Bible, many people found favor in God's eyes. One of these people is Jacob.
What shall we say then? Is there unrighteousness with God? Certainly not! For He says to Moses, "I will have mercy on whomever I will have mercy, and I will have compassion on whomever I will have compassion." [Romas 9:13-15].
When we surrender our lives to the lordship of Jesus Christ, we receive God's favor.
We also receive the favor of God by walking in humility and purity.
No good thing does God withhold from those who walk uprightly (Psalms 84:11)
4. The God of War (The God of Moses)
God revealed Himself to Moses as the God of War and the God who fought all his battles.
Then Moses and the children of Israel sang this song to the Lord and spoke, saying: "I will sing to the Lord, For He has triumphed gloriously! The horse and its rider He has thrown into the sea! The Lord is my strength and song, And He has become my salvation; He is my God, and I will praise Him; My father's God, and I will exalt Him. The Lord is a man of war; The Lord is His name (Exodus 15:1-3).
But if you indeed obey His voice and do all that I speak, I will be an enemy to your enemies and an adversary to your adversaries. (Exodus 23:22 )
God has sworn that he will fight against our enemies, and so we should never allow ourselves to be intimidated by any enemy.
5. The God of Deliverance (The God of David)
David encountered and experienced the God who delivered him from all his enemies.
I will call upon the Lord, who is worthy to be praised; So shall I be saved from my enemies. "When the waves of death surrounded me, The floods of ungodliness made me afraid. The sorrows of Sheol surrounded me; The snares of death confronted me. In my distress, I called upon the Lord, And cried out to my God; He heard my voice from His temple, And my cry entered His ears. (2 Samuel 22:4-7)
We can go on and on and discover the many encounters that God had with His people as He revealed himself to them through their unique, different circumstances.
For example, in the New Testament:
God was a healer to the woman with the issue of blood.
To Simon Peter, God is the God of the supernatural as Peter was able to walk on water in the sea, freed from prison when the chains fell off, and the prison gate opened on its own.
To Apostle Paul, God was a provider.
As we grow in God, we keep learning more about Him, His Word encourages us to 'Draw near to God, and He will draw near to you' [James 4:8]
If you want to know more about God, you can talk to us. Contact us through a contact form on our website Westside Bible Chapel or through our Facebook Page.
---
Saturday, July 3, 2021, 01:47 am
Spiritual sight is the ability to see beyond the apparent or what is not seen.
It is seeing with the eyes of faith or as God sees. This of course has nothing to do with what we see with our natural eyes.
In Jeremiah 1 God spoke to Jeremiah and said to Him:
"Before I formed you in the womb I knew you; before you were born I sanctified you; I ordained you a prophet to the nations." (Jeremiah 1:5)
God was able to see the Jeremiah in his matured and functional state even before He was formed in his mother's womb.
The script of our lives is first of all written in the spiritual realm – God knows all about it — before it begins to play in the natural realm.
Our ability to log on to that spiritual reality (the future) requires the activation of spiritual sight – seeing by faith what has not yet come to pass.
That is why scripture says that "the just shall live by faith."
The road to destiny is littered with wasted lives, wasted years and wasted opportunities.
This is due to the fact that many were not able to see the will of God, ordained for them. They approach life from a carnal perspective of only what they were able to see with their natural eyes. They neglect to see what God wants for them through the eyes of faith.
No wonder Paul prays for the Ephesians:
The eyes of your understanding being enlightened; that you may know what is the hope of His calling, what are the riches of the glory of His inheritance in the saints (Ephesians 1:18)
This simply implies that we can be blind and not be aware.
This is demonstrated very well by the 12 spies that were sent by Moses to go and spy out the promised land (Canaan) as we read in Numbers 13:17-33 and Numbers 14:1-9.
These were leaders of the people and hence looked like they had capacity to perceive spiritual reality because of the journey that the children of Israel had already taken, which was one of faith in God's direction and supply.
The report of the 12 spies was:
Nevertheless the people who dwell in the land are strong; the cities are fortified and very large; moreover we saw the descendants of Anak there (Numbers 13:28)
And they gave the children of Israel a bad report of the land which they had spied out, saying, "The land through which we have gone as spies is a land that devours its inhabitants, and all the people whom we saw in it are men of great stature. There we saw the giants (the descendants of Anak came from the giants); and we were like grasshoppers in our own sight, and so we were in their sight." (Numbers 13:32-33)
They brought a carnal report based on physical sight rather than SPIRITUAL SIGHT - Faith:
They saw physical impediments
They saw the skills and enormity of their adversaries
They saw physical limitations
They saw a land that devours the people
Faith comes by hearing the pure Word of God
We only receive from God as far as we can see by faith. God doesn't give us more light than the faith that he gives to see the distance.
We see a good example in this encounter of between Abraham and God.
Spiritual sight opens up the world of possibilities.
And the Lord said to Abram, after Lot had separated from him: "Lift your eyes now and look from the place where you are—northward, southward, eastward, and westward; for all the land which you see I give to you and your descendants forever. (Genesis 13:41-15)
Then Caleb quieted the people before Moses, and said, "Let us go up at once and take possession, for we are well able to overcome it." (Numbers 13:30)
Our spiritual sight is deactivated when we listen to a heap of lies instead of listening to spiritual truth.
Spiritual sight believes God for the future and steps into that future.
Only do not rebel against the Lord, nor fear the people of the land, for they are our bread; their protection has departed from them, and the Lord is with us. Do not fear them." (Numbers 14:9)
May God help us never to forget what He is able to do. We'll see by faith when we remember what God has been able to do for us in the past.
This way no situation will be able to intimidate us.
If you want to know more about faith in God, you can talk to us. Contact us through a contact form on our website Westside Bible Chapel or through our Facebook Page.
---