As believers, courage helps us to have faith and become willing to obey God. Courage empowers us to take risks, such as going on a dangerous mission or speaking out against injustice.
In part 1 of this series, we explored two major ways to become courageous. One, by knowing that God is with you, and through faith.
How can believers gain courage?
This blog post will continue looking at more ways to gain courage as a Christian.
1. Through forgiveness and righteousness
The wicked flee when no one pursues, but the righteous are bold as a lion (Proverbs 28:1)
Take courage, son; your sins are forgiven (Matthew 9:2)
2. Through hope and trust in God
Therefore, since we have such a hope, we are very bold (2 Cor 3:12)
Be of good courage, and He shall strengthen your heart, all you who hope in the Lord (Psalms 31:24)
3. Through being filled with the Holy Spirit
And when they had prayed, the place where they were assembled together was shaken; and they were all filled with the Holy Spirit, and they spoke the word of God with boldness (Acts 4:31)
4. Through knowing that the one in you and with you is greater
You are of God, little children, and have overcome them, because He who is in you is greater than he who is in the world (1 John 4:4)
Be strong and courageous; do not be afraid nor dismayed before the king of Assyria, nor before all the multitude that is with him; for there are more with us than with him. With him is an arm of flesh; but with us is the Lord our God, to help us and to fight our battles." And the people were strengthened by the words of Hezekiah king of Judah. (2 Chronicles 32:7-8)
5. Through prayer
For this reason I bow my knees to the Father of our Lord Jesus Christ, from whom the whole family in heaven and earth is named, that He would grant you, according to the riches of His glory, to be strengthened with might through His Spirit in the inner man, that Christ may dwell in your hearts through faith; that you, being rooted and grounded in love…( Ephesians 3:14-17)
In the day when I cried out, You answered me, and made me bold with strength in my soul (Psalms 138:3)
6. Through the testimonies of other believers
…and most of the brethren in the Lord, having become confident by my chains, are much bolder to speak the word without fear (Philippians 1:14)
And they overcame him by the blood of the Lamb and by the word of their testimony, and they did not love their lives to the death (Revelation 12:11)
Therefore comfort (encourage or build one another up) each other and edify one another, just as you also are doing (1 Thessalonians 5:11)
Do you feel hopeless and need encouragement? Contact us today at Westside Bible Chapel through our website contact form or Facebook page.
---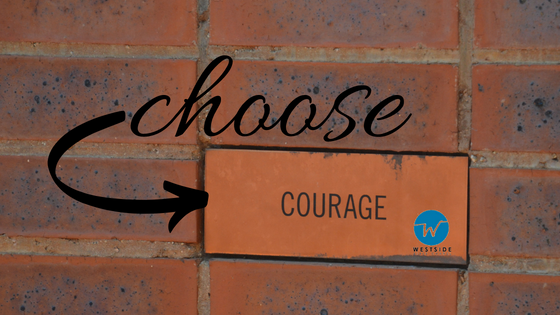 Courage is a key and glorious virtue. In Joshua 1:6, after the death of Moses, God said to Joshua that he needed to be strong and of good courage.
In the verse that follows verse (7), God again says to Joshua, to be strong and very courageous, so that he could observe to do according to the law as Moses had spoken to the Israelites.
The same command is seen again in Joshua 1:9,
Have I not commanded you? Be strong and of good courage; do not be afraid, nor be dismayed, for the Lord your God is with you wherever you go.
It's clear from the Bible that believers should exercise courage. Obeying the leading of the Holy Spirit and fulfilling purpose and assignments from God requires that we be bold and courageous.
Becoming Courageous
Often, we meet with numerous obstacles and problems that easily discourage us.
So, how does one become courageous?
1. Know that God is With You
We take courage when we know we aren't on our own. That God, the Creator of the heavens and the earth is always with us. That was His promise to Joshua, saying,
…don't be afraid, for the Lord your God is with you wherever you go (Joshua 1:9)
As the Israelites were leaving Egypt, God said to them the following,
Be strong and courageous. Do not be afraid or terrified because of them, for the Lord your God goes with you; he will never leave you nor forsake you (Deuteronomy 31:6)
This is God's promise to every believer. It's written,
"…and lo, I am with you always, even to the end of the age." (Matthew 28:20

For He Himself has said, "I will never leave you nor forsake you." (Hebrews 13:5)
2. Through Faith
Courage is produced by our faith. Faith is believing in God, knowing He is, what He can do, what He has promised in His Word, and following how He has dealt with people who believed and trusted him in the past.
Faith to believe in God and His promises comes by hearing and listening to His Word.
So, then faith comes by hearing, and hearing by the word of God (Romans 10:17)
When you have faith in God's power and His word, you gain confidence and courage that He can be trusted and cannot fail.
There are people who showed courage in the Bible, such as David.
David always sought-after God and His word, which fueled his faith, confidence, and courage. It was because He knew God is trustworthy and powerful that he would face Goliath and other challenges with extreme courage and boldness.
He believed God is always with him, and as a result, he wouldn't fear.
Yea, though I walk through the valley of the shadow of death, I will fear no evil: for thou art with me; thy rod and thy staff they comfort me. (Psalms 23:4)
When he felt heartless, he encouraged himself in the Lord and in His word, reminding himself that He can succeed against anything if God is with him.
For by You I can run against a troop, by my God I can leap over a wall (Psalms 18:29).
Do you feel hopeless and need encouragement? Contact us today at Westside Bible Chapel through our website contact form or Facebook page.
---
Isn't it amazing that the people we're most close to are the very ones who can end up profoundly hurting us? For example, the pain goes deep when a parent, sibling, spouse, or close friend greatly offends or betrays our trust.
Jesus Christ was betrayed by someone close, his disciple, Judas Iscariot. It baffled the disciples that Judas would betray Christ while pretending to say hello with a kiss.
And while He was still speaking, behold, a multitude; and he who was called Judas, one of the twelve, went before them and drew near to Jesus to kiss Him. But Jesus said to him, "Judas, are you betraying the Son of Man with a kiss?" [Luke 22:47-48)
It's easy to overlook offense from someone you barely know. However, the pain goes deep when it's someone close to you. And it becomes difficult to concentrate on anything else when we're deeply hurt or wounded.
The answer to this is forgiveness.
How to Forgive
Figuring out how to forgive may not be easy. However, it's possible. This blog post will look at several ways to help us let go of hurt and achieve true forgiveness.
Know and understand why forgiveness matters
Holding onto unforgiveness only hurts us more. When we forgive, we receive the freedom to be free from the chains of bitterness, anger, negativity, and hatred. Forgiving those who do us wrong empowers us to choose against being angry, hateful, envious, and bitter.
A sound heart is life to the body, but envy is rottenness to the bones. (Proverbs 14:30)
Forgiveness allows us to be stress-free, peaceful, and whole, which frees us for better life experiences and relationships.
Acknowledge the hurt and who hurt you, and why it happened.
Doing so enables you to let out the hurt and consider the whole situation carefully before making any decision.
Acknowledging the hurt also helps you understand how someone else may feel if the same was done to them, which allows you to exercise forgiveness.
Remember the forgiveness of God

God tells us to forgive others as He has forgiven us.
And be kind to one another, tenderhearted, forgiving one another, even as God in Christ forgave you (Ephesians 4:32)

For if you forgive men their trespasses, your heavenly Father will also forgive you. But if you do not forgive men their trespasses, neither will your Father forgive your trespasses (Matthew 6:14-15)
We can forgive when we reflect on the biblical commands about forgiveness.
Reminding ourselves that God provided forgiveness for us when we didn't deserve it and continually forgives us in Christ, helps us forgive others.
Ask yourself, shouldn't I forgive others if God has forgiven me?
Let go of the hurt, genuinely

After you decide to forgive, you must let it go completely.
If you're struggling to let it go, remember it doesn't mean you're a failure at forgiveness. The journey to genuine forgiveness may likely take time. It would be best if you were determined to forgive, be courageous, and be patient.
We portray wisdom when we overlook an offense.
The discretion of a man makes him slow to anger, and his glory is to overlook a transgression (Proverbs 19:11)
Let God in and ask Him to guide the process. If the relationships need repair, you can use kind words and simple gestures to show you have let go.
Always work towards developing a heart that forgives others quickly because offenses always come. In the Lord's prayer, we pray,
…and forgive us our trespasses, as we forgive those who trespass against us… (Matthew 6:12)
We should always be ready and willing to forgive others, as we look to God to forgive us each day.
Want to learn more about Faith in God? Contact us today at Westside Bible Chapel through our website contact form or Facebook page.
---