Wednesday, June 3, 2020, 11:47 am
---
Wednesday, June 3, 2020, 11:35 am
---
Tuesday, May 26, 2020, 12:22 pm
God has lavished believers with numerous gifts – the gift of joy is one of them. Joy is a fruit of the Holy Spirit according to Galatians 5:22-23. It is imparted
when a person becomes a Christian by being united to God through faith in Jesus. Joy is the result of maintaining a right relationship with Christ and is produced by the Holy Spirit, flooding our soul and causing us to be satisfied in Christ and in His Word.
But, joy often seems to be missing from our lives as believers even though we are children of God especially during hard times.
Why is that?
Well, we have to understand the difference between biblical joy and happiness. Happiness fluctuates according to our circumstances. The joy delivered to our soul by the Holy Spirit is a result of a reliant relationship of obedience to God.
Joy is a Gift from God
The Bible has a lot to say about Joy. In fact, the word 'joy' appears over and over in Scripture. For a start, Joy is a vital part of the Kingdom of God and exists wherever believers are joined together.
…..for the kingdom of God is not eating and drinking, but righteousness and peace and joy in the Holy Spirit (Romans 14:17).
In John 15:11, we see how important Joy is to Jesus. After sharing a meal with His disciples just before His crucifixion, he explained the special relationship He would have with them if they would abide in His love. He closed the conversation by saying
…these things I have spoken to you, that my Joy may be in you, and that your joy may be full.
Reasons to be Joyful
1. Our joy is permanent
Permanent because it is rooted in an unchanging God. Jesus promises that …'no one takes your joy from you.' (John 16:22). As long as we walk by the Spirit, nothing can rob joy away from us.
2. Our joy is always present
Present because it is rooted in a faithful and ever-present God. No matter the life circumstances that we could be passing through, we have a ready access to source of Joy when we turn to God. It's the reason we can …'rejoice in the Lord always', as written in Philippians 4:4
3. Our joy is indescribable
A believer's joy cannot be expressed… 'Whom having not seen you love. Though now you do not see Him, yet believing, you rejoice with joy inexpressible and full of glory, ( 1 Peter 1:8)
Cultivating Joy
When we feel empty of Christian joy, we can go to the true source of joy
1. God himself is our primary source of joy
'…Then I will go to the altar of God, To God my exceeding joy; And on the harp I will praise You, O God, my God ' (Psalms 43:4)
2. God's salvation is a great source of joy
You must have noticed that people experience true joy when they get born again. Listen to what Prophet Isaiah says in Chapter 61 verse 10,
I will greatly rejoice in the Lord,
My soul shall be joyful in my God;
For He has clothed me with the garments of salvation,
He has covered me with the robe of righteousness,
As a bridegroom decks himself with ornaments,
And as a bride adorns herself with her jewels
3. God's promises are loaded with Joy
God's promises through His Word cause great joy.
4. The Kingdom of God is a source of Joy
Angels rejoice when souls join the kingdom of God.
Likewise, I say to you, there is joy in the presence of the angels of God over one sinner who repents (Luke 15:10)
You will show me the path of life; in Your presence is fullness of joy; At Your right hand are pleasures forevermore (Psalms 16:11)
Difficult Circumstances Cannot Take Away Our Joy
Even when we are in the midst of a difficult situation that rightfully brings us distress, our inner joy remains. We have joy when we remember that no matter what the state of affairs, God is with us and He is above all.
Paul in 2nd Corinthians 6:10 says that believers can be "sorrowful, yet always rejoicing ".
There's a lot to learn about joy from the Bible, we encourage you to continue with a personal Bible study on Joy.
If you want to know more and experience joy comes from God, contact us today at Westside Bible Chapel through our website contact form. You can also send us a message on our Facebook page.
---
Thursday, May 21, 2020, 05:57 am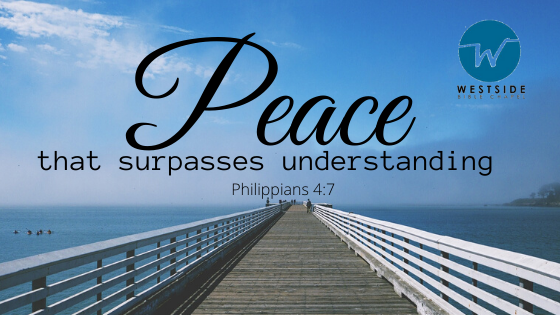 Do you remember the time when Jesus and His disciples went to the home of Mary and Martha? The sisters welcomed them and Mary went to sit at the Jesus's feet to listen to what He was teaching. Martha, on the other hand, was distracted by the big dinner she was preparing for her guests and was worried and upset over all the details (Luke 10:40-41). She was a picture of anxiety and lack of peace when she approached Jesus asking, "Lord, do you not care..?"
It was a similar picture in a case when Jesus and his disciples took a boat to the other side of the lake to find some time to rest. As they crossed the sea, a huge storm arose. Jesus was sleeping on the deck. The disciples dashed to wake him and said, "Teacher, don't you care if we drown?"
Such examples show ordinary life scenarios that can easily cause panic, doubt, fear, terror and dread.
It's no different for us…
It could be the responsibility of providing for your family, wondering about your family safety, a chronic diagnosis, abuse, death and loss, anticipation of harm, global pandemics and more – ­the list is endles­­s.
The good news is that as God's children, we can experience and rely on God's peace no matter what is happening around us.
Understanding God's Peace
God's peace is not the feeling experienced when all seems well. Neither is it the absence of problems as it has nothing to do with our circumstances at all.
Peace comes from knowing that God is constantly with us. It is that innermost response and serenity that indicates a heart with complete confidence in God every minute of the day. Here are some truths about peace from God.
It has everything to do with our relationship with God and nothing to do with our circumstances
It has everything to do with knowing that our lives are in God's hands and nothing to do with daily life challenges
It has everything to do with knowing God is sufficient and nothing to do with life conditions
Walking in God's Peace
Life circumstances may tempt us to fear or become a nervous wreck. We don't have to give in. We can choose to trust God and be filled with His Peace. It is a choice we must make every day. We experience God's peace…
When we choose not to panic but to rest in His presence
When we release dread and fear and trust God's wisdom
When we reject anxiety and remember that God is in control
When we ignore our fear and accept God's sufficiency
Receiving God's Peace
When we walk in the ways of God and walk according to the Spirit, we have instant access to God's peace. Listen to Philippians 4:6-7,
Be anxious for nothing, but in everything by prayer and supplication, with thanksgiving, let your requests be made known to God; and the peace of God, which surpasses all understanding, will guard your hearts and minds through Christ Jesus.
1. We Receive Peace through God the Father
One of the promises of God for receiving God's peace is in Isaiah 26:3
Thou will keep him in perfect peace whose mind is stayed on Thee, because he trusted in Thee.
It's true, we can't avoid challenges that may want to steal our peace. But we can know perfect peace in the midst of turmoil when we focus on God.
2. We have Peace through God the Son
Speaking about Jesus, Isaiah prophesied …'a child will be born to us, a son will be given to us ... and His name will be the Prince of Peace' (Isaiah 9:6). We receive peace through Jesus Christ.
Also take note of Romans 5:1 which says, "Therefore, having been justified by faith, we have peace with God through our Lord Jesus Christ."
3. We have Peace through the Holy Spirit
The Holy Spirit is our friend, teacher, comforter according to John 14:26. When we abide in the Word and Walk by the Spirit, we receive peace from God.
Also remember that one of the gifts of the Holy Spirit is Peace (Galatians 5:22).
4. We have Peace through God's Word
The Bible is one way that God reveals his will. When we obey God's Word, we experience God's peace.
Great peace have those who love your law, and nothing causes them to stumble (Psalms 119:165)
As believers, we can look to God our Father, God the Son, the Holy Spirit and God's Word for peace. That way we can overcome fear and panic in every situation.
Are you restless and wants to receive peace that comes from God? Contact us today at Westside Bible Chapel through our website contact form or send us a message on our Facebook page.
---
Tuesday, May 12, 2020, 08:07 pm
It's easy to trust ourselves, trust our jobs, and trust our family members but not so easy sometimes to trust God. Whether you are a new believer or have been walking with God for some years, trusting God can be a challenging spiritual discipline.
What does it Mean to Trust God?
Once we get into a relationship with God, we are to trust in Him with all our hearts as we are instructed in Proverbs 3:5.
Trust in the Lord with all your heart, and lean not on your own understanding; in all your ways acknowledge Him, And He shall direct your paths
1. Trusting God Means You Have Solid Confidence in Him
Trusting someone means you have confidence in him/her. Similarly, trusting God means having solid confidence in Him. In whom He says He is (His Character) and in what He says He will do.
2. Trusting God is to Have Faith in God
Trusting God also means to have faith in Him. In other words – to believe Him and take Him at His Word.
Faith is the substance of things hoped for and the evidence of things not seen. Placing our faith in Him shows our firm expectation that He will deliver on His promises.
3. To Trust God is to Acknowledge Him in Everything
Acknowledging God means recognizing God in every moment of life, wherever we are and in whatever we do. When you acknowledge God in each thing, you trust Him.
4. To Trust God is to Fear God
The fear of God is a reverential fright causing a lifestyle change. In other words, because of who God is (big) and because of who I am (small) I live differently. It also causes us to trust in the One that is bigger than we are! Our fear of God shows that we trust Him and are aware of His presence in our lives. When we fear Him enough to choose to be guided by His Word in all that we do, it shows our trust in Him.
5. Trusting God Means Not Staying Worried
None of us can stop a thought of worry from landing in our mind, but we can stop that thought from staying there and building a fortress of fear.
Listen to what Jesus in Matthew 6:33
…..do not worry about your life, what you will eat or what you will drink; nor about your body, what you will put on. Is not life more than food and the body more than clothing? Look at the birds of the air, for they neither sow nor reap nor gather into barns; yet your heavenly Father feeds them. Are you not of more value than they? Which of you by worrying can add one cubit to his stature?
Worrying doesn't help anything. So, why worry? There's no way you can be trusting God and be worried at the same time.
Reasons Why It's Important to Trust God (From Scripture)
Here are seven reasons why you should trust God:
1. God created you
Even every one that is called by my name: for I have created him for my glory, I have formed him; yea, I have made him (Isaiah 43:7)
2. God knows you by name
But now, this is what the Lord says—He who created you, Jacob, He who formed you, Israel: 'Do not fear, for I have redeemed you; I have summoned you by name; you are mine'" (Isaiah 43:1)
3. God thinks about you
How precious also are Your thoughts to me, O God! How great is the sum of them! (Psalms 139:17)
4. God fights for you
The Lord will fight for you, and you shall hold your peace (Exodus 14:14)
5. God has plans for you
For I know the plans I have for you,' declares the Lord, 'plans to prosper you and not to harm you, plans to give you hope and a future (Jeremiah 29:11)
6. God is your refuge
Trust in Him at all times, you people; pour out your heart before Him;
God is a refuge for us (Psalm 62:8)
7. God is always with you and will never leave you
And lo, I am with you always, even to the end of the age (Matthew 28:20)
No one will be able to stand up against you all the days of your life. "As I was with Moses, so I will be with you; I will never leave you nor forsake you (Joshua 1:5)
Do you want to learn how to trust God? Contact us today at Westside Bible Chapel through our website contact form or send us a message on our Facebook page.
---