Offense refers to displeasing, causing anger, resentment, displeasure, or affront to someone. It can easily result from misunderstandings, disagreements, or a complicated betrayal. That means it's easy to offend someone and be offended by other people.
It's, therefore, crucial to learn how to respond to offense.
Gladly, the Bible has a lot to say about offense. In this blog post, we look at what the Bible says about offense and learn how we can respond and deal with it.
What the Bible says about Offense
Many verses mention offense in the Word of God. Here are a few.
A brother offended is harder to win than a strong city, And contentions are like the bars of a castle (Proverbs 18:19)
And then many will be offended, will betray one another, and will hate one another (Matthew 24:10)
What Offense Does
The first thing that offense does is that it brings strife and division. The spirit of offense also breeds anger and hatred.
Remember how the gospel of Christ offended the Pharisees, and so they hated and wanted Him dead?
In addition, offense will also keep off love. When someone offends you, it would not be possible to say you love them at that point.
How to Handle Offense
It's essential to learn how to deal with offense. Here are several things we can do:
First and foremost, let go of offense through forgiveness. The Bible teaches that forgiveness is critical. In Matthew 6:14-15, Jesus says,
For if you forgive men their trespasses, your heavenly Father will also forgive you. But if you do not forgive men their trespasses, neither will your Father forgive your trespasses.
Forgiveness is a commandment from God. We must be willing to forgive those who offend us, just as God has forgiven us.
Connected to this is that the Bible also says that it is a wise thing to overlook an offense.
A person's wisdom yields patience; it is to one's glory to overlook an offense (Proverbs 19:11)
Furthermore, the word of God teaches that we should not hold grudges or seek revenge.
Romans 12:19 says,
Beloved, do not avenge yourselves, but rather give place to wrath; for it is written, "Vengeance is Mine, I will repay," says the Lord.
We should trust God to handle the situation and let go of any desire for vengeance. Holding onto anger and resentment can only cause further social damage to ourselves and those around us.
The Bible also instructs us to confront those who have offended us lovingly and respectfully.
In Matthew 18:15-17, Jesus says,
"Moreover, if your brother sins against you, go and tell him his fault between you and him alone. If he hears you, you have gained your brother. But if he will not hear, take one or two more with you, that 'by the mouth of two or three witnesses every word may be established.' And if he refuses to hear them, tell it to the church."
It is essential to address the issue directly and with love rather than harboring resentment because resentment only worsens it.
Finally, the Bible teaches us to guard our hearts.
Proverbs 4:23 says, "Keep your heart with all diligence, for out of it spring the issues of life."
We must be mindful and careful of what can lead us to offense and protect ourselves from them.
This includes guarding against offenses. Better yet, we can learn to guard our hearts against an offense with the help of the Holy Spirit.
The Word of God truly offers invaluable guidance on how to deal with offense. We must forgive others, avoid seeking revenge, confront our brethren with love, and guard our hearts.
Following these bible teachings helps us navigate challenging situations around offenses and helps us maintain healthy relationships with those around us.
Want to learn more about Faith in God? Contact us today at Westside Bible Chapel through our website contact form or Facebook page.
---
In the Bible, there are two dimensions of pride.
One form of pride is legitimate in that it comes in when we appreciate the character of someone and say, 'I am proud of you.'
For example, the Bible talks of us boasting about God. We can be proud of God because of what who He is, His faithfulness, what He has done for us through Christ and what He is doing to us and for us through the Holy Spirit.
In God, we make our boast all day long, and we will praise your name forever (Psalm 44:8)
But God forbid that I should boast except in the cross of our Lord Jesus Christ, by whom the world has been crucified to me, and I to the world (Galatians 6:14)

We can also take pride in someone due to something they have achieved when we want to encourage them.
However, there's another form of pride that is sinful and disobedience to God. Such pride is at the heart of self-centeredness, self-reliance, and entitlement. The Book of Psalms says,
The wicked in his proud countenance does not seek God; God is in none of his thoughts (Psalm 10:4)
In James, we have the following verse,
But he gives more grace. Therefore, it says, "God opposes the proud but gives grace to the humble." (James 4:6)
When we let such sinful pride take over, we forget God created us uniquely and subsequently gave us distinct purposes. Everything we are, and we have, we have received from God.
For who makes you differ from another? And what do you have that you did not receive? Now if you did indeed receive it, why do you boast as if you had not received it? (1 Corinthians 4:7)
When sinful pride takes over our focus, we can easily find ourselves competing and comparing instead of showing humility and love towards others.
Here are a few verses about sinful pride in the book of Proverbs.
When pride comes, then comes shame; But with the humble is wisdom (Proverbs 11:2)
By pride comes nothing but strife, but with the well-advised is wisdom (Proverbs 13:10)
Everyone proud in heart is an abomination to the Lord; Though they join forces, none will go unpunished. (Proverbs 16:5)
Pride goes before destruction, And a haughty spirit before a fall (Proverbs 16:18)
Before his downfall, a man's heart is proud, but humility comes before honor (Proverbs 18:12)
A man's pride will bring him low, but a humble spirit will obtain honor (Proverbs 29: 23)

Pride in the Bible
In Genesis 3:5-6, Adam and Eve struggled with pride, leading to humanity's fall when the enemy deceived them that eating the forbidden fruit would make them as God.
King David struggled with pride when he called for a census of the army (1 Chronicles 21)
Nebuchadnezzar was proud and, as a result, was driven from his kingdom for taking credit for building Babylon with his might and power (Daniel 4:30)
King Herod was struck dead because he accepted worship from people rather than give glory to God of a god (Acts 12:23)
Hezekiah was proud, which led to him disobeying God (2 Chronicles 32:25)
How to Deal with Pride
Some things we can do to overcome pride:
1. Read the Bible and hear God's thoughts on pride.
2. Pray and ask God to reveal and remove pride in our hearts.
3. Identify the root of your pride, such as fear, insecurity, control, etc., and address it more effectively through the help of the Holy Spirit.
4. Do what the Bible says, and as we read and listen, have the heart to obey Him through the help of the Holy Spirit.
5. Repent of sinful proud habits and thwart them from our lives continually.
6. Practice humility, empathy, and compassion towards others and cultivate gratitude.

Action point:
Read the study what the Bible says about pride. Ask the Holy Spirit to teach you more and give you understanding that helps you apply what you learn.
Want to learn more about Faith in God? Contact us today at Westside Bible Chapel through our website contact form or Facebook page.
---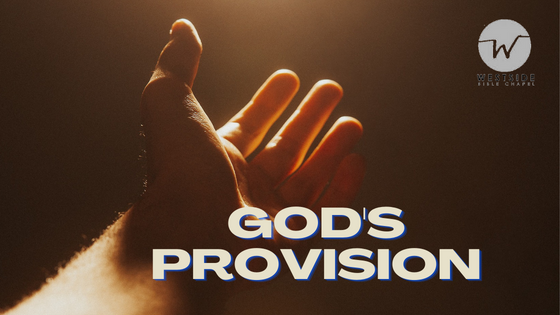 It is the desire of God for us to live happily and in prosperity in all areas of our lives.
God is our source. We can believe Him to provide what we need, including spiritual and material blessings.
But how do we believe God for provision?
Let's look at a few steps that help us believe in God for provision based on the Bible.
1) Be grateful
Gratitude is a powerful tool for believers. Through it, we express our faith and trust in God. We should always thank God for what we already have, no matter how little it may seem, and trust Him to provide what we need.
The Word of God is filled with scriptures about being grateful. For example,
Give thanks to the Lord, for he is good; his love endures forever (Psalms 107:1)
In everything give thanks; for this is the will of God in Christ Jesus for you (1 Thessalonians 5:18)
Gratitude also helps us focus on the positive things and to be content with what we have.
Philippians 4:11-12 says,
Not that I speak in regard to need, for I have learned in whatever state I am, to be content: I know how to be abased, and I know how to abound. Everywhere and in all things, I have learned both to be full and to be hungry, both to abound and to suffer need.
2) Be a good steward
God blesses those who are faithful with what they have been given.
That means we are responsible for caring for the blessings and resources that God has given us.
He who is faithful in what is least is faithful also in much; and he who is unjust in what is least is unjust also in much (Luke 16:10)
Be a good steward of what you have, and trust that God will increase it.
3) Know and Believe that God can provide
If you will have God provide for you, you must know and believe He can do what you need and much more.
Now to Him who is able to do exceedingly abundantly above all that we ask or think, according to the power that works in us (Ephesians 3:20)
You must also know that God has all the resources you need and will not withhold anything from you.
'The silver is Mine, and the gold is Mine,' says the LORD of hosts (Haggai 2:8)

For the LORD God is a sun and shield; The LORD will give grace and glory; No good thing will He withhold from those who walk uprightly (Psalms 84:11)

I will give you the treasures of darkness, And hidden wealth of secret places, So that you may know that it is I, The LORD, the God of Israel, who calls you by your name (Isaiah 45:3)
In other words, you must believe God cares for you and wants to give you good things.
4) Pray and ask for provision
Once you know and have believed that God can provide, take a step of faith —and ask God to provide for your needs.
Matthew 7:7 says,
Ask, and it will be given to you; seek, and you will find; knock, and it will be opened to you.
God has promised that it will be given to us when we ask. God expects us to ask for what we need. So, go ahead and ask for that which you need from God.
5) Read and meditate on God's promises
The Bible is filled with promises of abundance and provision.
Spend time reading and meditating on scriptures about provision and abundance and let them build faith in God's provision in your spirit.
And my God will supply all your needs according to His riches in glory in Christ Jesus (Philippians 4:19)
The young lions do lack and suffer hunger; But they who seek the Lord shall not be in want of any good thing (Psalms 34:10)
Abraham called the name of that place The Lord Will Provide, as it is said to this day, "In the mount of the Lord it will be provided." (Genesis 22:14)

6) Believe and trust in God's timing
Sometimes, God's timing about the time we need Him to provide may not match our own.
I wait for the Lord, my soul does wait, And in His word do I hope (Psalms 130:5)
Trust in God's timing and believe He will provide for your needs when the time is right.
Remember, God is faithful and will provide for your needs. Trust in Him and have faith that He will always come through for you.
Want to learn more about Faith in God? Contact us today at Westside Bible Chapel through our website contact form or Facebook page.
---