Tuesday, May 4, 2021, 03:01 am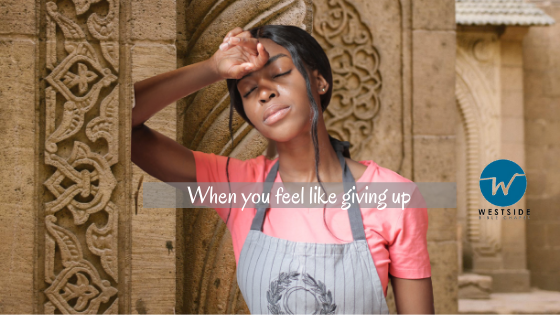 Life is a journey with ups and downs that we all go through. When going through the bad times, it's easy to feel overwhelmed. Usually, the natural response is to give up or throw in the towel.
We feel like giving up on a relationship that does not seem to be working. Giving up on a promise from God that seemingly is taking too long to manifest. Giving up on businesses that are not doing well. Giving up on a difficult career path. Giving up on other things that feel so difficult to go through.
We're good at giving up.
We also go through times when we feel like giving up on God, especially when He feels so distant or is not coming through for us as we would expect or hope.
1 Kings Chapter 19 narrates a very good example relating to this. Elijah had come to a place where he gave up and wanted to die after a threat from Jezebel.
But he himself went a day's journey into the wilderness, and came and sat down under a broom tree. And he prayed that he might die, and said, "It is enough! Now, Lord, take my life, for I am no better than my fathers!" (1 Kings 19:4)
The interesting thing is God's immediate response to Elijah in V7. See below.
And the angel of the Lord came back the second time, and touched him, and said, "Arise and eat, because the journey is too great for you." 1 Kings 19:7
In this article, we would like to explore why giving up is not an option and what we should do when we feel like giving up.
1. Pray and tell God exactly what you feel
When you feel like giving up, run to God, pour out your heart to him and turn over the weight to Him. David would tell God exactly what He felt.
O my God, my soul is cast down within me; Therefore I will remember You from the land of the Jordan, And from the heights of Hermon, From [g]the Hill Mizar. Deep calls unto deep at the noise of Your waterfalls; All Your waves and billows have gone over me (Psalms 42:6-7)

… praying at all times in the Spirit, with all prayer and supplication (Ephesians 6:18)

Then He spoke a parable to them, that men always ought to pray and not lose heart (Luke 18:1)

Be anxious for nothing, but in everything by prayer and supplication, with thanksgiving, let your requests be made known to God… (Philippians 4:6)

Cast your cares on the Lord and he will sustain you; he will never let the righteous be shaken (Psalms 55:22)
2. Go back to the beginning and don't lose heart
When we get to the point of giving up, it helps to go back to where it all started and ask ourselves why we started it in the first place and what we wanted to achieve or accomplish. This will bring us into focus of the purpose of our endeavor and help to boost our morale.
And let us not grow weary while doing good, for in due season we shall reap if we do not lose heart (Galatians 6:9)

Therefore we do not lose heart. Even though our outward man is perishing, yet the inward man is being renewed day by day. For our light affliction, which is but for a moment, is working for us a far more exceeding and eternal weight of glory…( 2 Corinthians 4:16-17)

Look out for part 2 of this article next week!
Contact us through a contact form on our website Westside Bible Chapel or through our Facebook Page.
---
Wednesday, April 28, 2021, 04:44 am
Prayer is a great opportunity for Christians because it helps us grow closer to God. At its core, prayer involves heartfelt communication between us and God. Such communication fosters deep closeness. God calls and invites us to prayer and promises to hear and listen to us when we pray.
The following few scriptures show that God hears and answers our prayers.
I love the Lord, because He has heard my voice and my supplications (Psalms 116:1)
And this is the confidence that we have in him, that, if we ask any thing according to his will, he hears us (1 John 5: 14-15)
And it shall come to pass, that before they call, I will answer; and while they are yet speaking, I will hear (Isaiah 65:14)
And whatever things you ask in prayer, believing, you will receive (Matthew 21:22)
Nevertheless, God has also laid out principles for prayer in His Word. Requirements that scripture gives us for approaching God in prayer in a way that will bring answers.
Conditions for Getting Your Prayers Answered
Here are 8 basic requirements for getting answers to every prayer and the scriptures that support them.
1. Approach God with deep submission
The life of Jesus on earth teaches us about prayer as we see how He did it. In Hebrews 5:7, Jesus prayers were heard because he approached God with god fear or reverent submission.
… when He (Jesus) had offered up prayers and supplications, with vehement cries and tears to Him who was able to save Him from death, and was heard because of His godly fear.
In Matthew 26: 39, Jesus submits his prayer to Gods will. By this, we understand that prayer is not a way to get our way with God but to submit to His will.
2. Have faith
One unchanging factor about approaching God is you must have faith (believe). We must believe that God will hear us as we go before Him in prayer.
But without faith it is impossible to please Him, for he who comes to God must believe that He is, and that He is a rewarder of those who diligently seek Him (Hebrews 11:6)

All things you ask in prayer, believing, you will receive (Matthew 21:22)
3. Go with boldness and confidence
Scripture also encourages us to go before God boldly. With confidence and without condemnation.
Let us therefore come boldly to the throne of grace, that we may obtain mercy and find grace to help in time of need (Hebrews 4:16)

Therefore, brethren, having boldness to enter the Holiest by the blood of Jesus…( Hebrews 10:19)
We also need to be free from condemnation.
If I regard iniquity in my heart, The Lord will not hear (Psalms 66:18)

Let us draw near with a true heart in full assurance of faith, having our hearts sprinkled from an evil conscience and our bodies washed with pure water (Hebrews 10:22)
4. Pray in Jesus Name
Scripture tells us to pray in the name of Jesus. When we approach God in the name of Jesus, we are going before Him on the basis of what Jesus has done for us through the cross.
If you ask anything in My name, I will do it (John 14:14)

Most assuredly, I say to you, whatever you ask the Father in My name He will give you. Until now you have asked nothing in My name. Ask, and you will receive, that your joy may be full (John 16:23-24)
5. Have the right motive
God is concerned as to why we want the things we ask for in prayer. So, we must approach him without self-centeredness. The right motive for prayer is for it to bring thanks giving to God bring glory to His name.
For the Lord does not see as man sees; for man looks at the outward appearance, but the Lord looks at the heart (1 Samuel 16:7)

You ask and do not receive, because you ask amiss, that you may spend it on your pleasures (James 4:3)

And whatever you ask in My name, that I will do, that the Father may be glorified in the Son. (John 14:13)
6. Forgive those who have done you wrong
This is another important condition to receiving answer to prayer. First of all, God forgives us because we forgive others as demonstrated in the Lord 's Prayer.
Jesus also said that we are to forgive if we have anything against someone when we pray.
And forgive us our debts, as we forgive our debtors (Matthew 6:12)

And whenever you stand praying, if you have anything against anyone, forgive him, that your Father in heaven may also forgive you your trespasses (Mark 11:25)
7. Ask according to God's Word
By praying according to God's Word, you know that God will answer what you ask for because you are praying His Will. God's will is revealed in His Word.
Now this is the confidence that we have in Him, that if we ask anything according to His will, He hears us. And if we know that He hears us, whatever we ask, we know that we have the petitions that we have asked of Him (1 John 5:14-15)
8. Be directed by the Holy Spirit
We are to be led and rely on the Holy Spirit to pray effectively. The Spirit of God helps in our prayer weaknesses and takes over to make intercession through us according to God's will.
Likewise the Spirit also helps in our weaknesses. For we do not know what we should pray for as we ought, but the Spirit Himself makes intercession for us with groanings which cannot be uttered. Now He who searches the hearts knows what the mind of the Spirit is, because He makes intercession for the saints according to the will of God (Romans 8:26-27)
So, always ask and depend the help of the Holy Spirit when approaching God in prayer.
If you want to know more about how to pray, you can talk to us. Contact us through a contact form on our website Westside Bible Chapel or through our Facebook Page.
---
Thursday, April 22, 2021, 11:03 am
Faith in God is the greatest asset that we have as believers. No wonder the book of Hebrews tells us that it is impossible to please God without faith.
But without faith it is impossible to please Him, for he who comes to God must believe that He is, and that He is a rewarder of those who diligently seek Him. (Hebrews 11:6)
As you take a journey through scripture — right from Genesis to Revelation — you discover that the fathers of old were able to accomplish great things through their faith in God. In four different instances in scripture namely Habakkuk 2:4, Romans 1:17, Galatians 3:11, Hebrews 10:38) we are told that "the just shall live by faith".
The enemy knows this truth too well and will always do his best to fight our faith in God by all possible means. In this article, we look at 3 main ways that the enemy uses to fight our faith in God.
1. Doubt
Doubt is a feeling of uncertainty or lack of conviction. Each one of us from time-to-time experiences instances where we doubt God and what He has promised us, but God overcomes our doubts.
In Genesis 17, we see God promising Abraham that He would give him a son through Saran. Abraham laughs as a result of doubt.
Then Abraham fell on his face and laughed, and said in his heart, "Shall a child be born to a man who is one hundred years old? And shall Sarah, who is ninety years old, bear a child?" (Genesis 17:17)
When Sarah also hears that she will get a child she also laughs.
Therefore, Sarah laughed within herself, saying, "After I have grown old, shall I have pleasure, my lord being old also? (Genesis 18:12).
This story has a good ending because God is able to give them Isaac who was the child of promise.
Doubt comes about when we look at things logically or try to explain everything in the natural. We should take God at his word — whether it makes sense to us or not.
2. Fear
The second key obstacle that the enemy uses against our faith is fear. Fear can be described as an unpleasant emotion caused by the threat of danger, pain, or harm. The likelihood of something unwelcome happening or a feeling of anxiety concerning the outcome of something or the safety of someone.
Fear also happens to be the opposite of faith scripturally speaking.
Someone said that Fear is to the devil what Faith is to God. It is no wonder many times when God sent Angels to deliver messages to His people, He would start by saying "Fear Not ".
A good example of fear becoming an obstacle is found in Matthew 14 where we see Peter being able to walk on water after seeing Jesus doing the same.
Vs 30 says that when he saw the boisterousness of the sea, he was afraid and immediately he began to sink.
3. Unbelief
The final obstacle we will look at is unbelief. In 2 Kings 6, we see the story about a great famine in Samaria.
Later on in 2 Kings 7:1, Elisha comes and says, Thus says the Lord: 'Tomorrow about this time a seah of fine flour shall be sold for a shekel, and two seahs of barley for a shekel, at the gate of Samaria.'"
In vs 2: an officer on whose hand the king leaned answered the man of God and said from unbelief, "Look, if the Lord would make windows in heaven, could this thing be?"
Elisha immediately answers him and tells him: "In fact, you shall see it with your eyes, but you shall not eat of it."
The unbelief of this man cost him his life. He was able to see it come to pass but did not eat of it according to the word of the Man of God, Elisha.
Now the king had appointed the officer on whose hand he leaned to have charge of the gate. But the people trampled him in the gate, and he died, just as the man of God had said, who spoke when the king came down to him. So it happened just as the man of God had spoken to the king, saying, "Two seahs of barley for a shekel, and a seah of fine flour for a shekel, shall be sold tomorrow about this time in the gate of Samaria." Then that officer had answered the man of God, and said, "Now look, if the Lord would make windows in heaven, could such a thing be?" And he had said, "In fact, you shall see it with your eyes, but you shall not eat of it." And so it happened to him, for the people trampled him in the gate, and he died. (2 Kings 7:17-20)
We need to be aware and consciously and deliberately guard against these 3 obstacles so that we can live by Faith as the word has told us we are expected to.
If you want to know more about Faith in God, talk to us through a contact form on our website Westside Bible Chapel or through our Facebook Page.
---