We are never meant to walk our faith journey in isolation as believers. We are instead called to live in a fellowship community with others for our spiritual growth and development. This makes fellowship and accountability crucial and powerful.
This blog post discusses why fellowship and accountability are potent aspects for Christians.
What is Biblical Fellowship and Why is it Important?
Usually, fellowship involves associating with others as friends, companions, or comrades.
However, for believers, fellowship is more than hanging out or socializing with other Christians. Instead, biblical fellowship involves building meaningful relationships with other believers in shared faith and commitment to achieve growth in Christ.
Biblical fellowship involves believers encouraging, inspiring, challenging, and deepening one another's faith in God.
Biblical fellowship is crucial because it helps us to grow in our faith and become more like Christ. It provides a support system to help us sail through life's good and bad. When part of a Christian fellowship, we have people we can turn to for encouragement, advice, and prayer.
More importantly, fellowship helps us to develop a deeper understanding of the gospel of Christ and the Bible. As we interact and network with other believers, we are exposed to different insights and perspectives about faith that can help us grow in our knowledge of God.
In the Bible, a key scripture on fellowship is found in Hebrews 10:24-25. It says,
"And let us consider how to stir up one another to love and good works, not neglecting to meet together, as is the habit of some, but encouraging one another, and all the more as you see the Day drawing near."
This verse highlights the importance of gathering with other believers and encouraging one another to love and do good works.
What is Accountability, and Why is it Important?
Another critical aspect of the Christian community is accountability. It involves the willingness to share our weaknesses, temptations, and struggles with others and allow them to hold us accountable for our decisions and actions.
Accountability is crucial because it helps us stay accountable to God and one another.
Having someone who holds us accountable helps us stay on track and remain faithful to our faith walk and commitments.
When we are accountable to others, we are more likely to stay on track and remain faithful and make progress in our faith walk and less likely to become complacent or fall into sin. Accountability also helps us to stay focused on our goals and commitments.
Also, we are more likely to experience grace, mercy, and forgiveness when accountable to others. When we make mistakes, our accountability partners can offer us the encouragement and support needed to help us get back on track.
A key Bible verse on accountability is found in James 5:16, which says,
"Therefore, confess your sins to one another and pray for one another, that you may be healed. The prayer of a righteous person has great power as it is working."
The verse emphasizes the importance of confessing our sins and praying for one another, which can lead to healing and restoration in our spiritual lives.
Conclusion
Fellowship and accountability are essential for believers because they help us to grow in our faith and become more and more like our savior, Jesus Christ.
In fellowship, we find people to turn to for help, encouragement, and prayer support.
In accountability, we see the power of community because we find people we can walk with in our spiritual journey, growth, and commitments.
Want to learn more about faith in God? Contact us today at Westside Bible Chapel through our website contact form or Facebook page.
---
Eric Henry Liddell was born on the 16th of January, 1902, as the second son to Reverend and Mrs. James Dunlop Liddell. His parents were Scottish missionaries in China.
Eric started school in China and enrolled at age six in Eltham College, a boarding school for missionary children. Liddell showed exceptional running talent at the school and became an outstanding athlete.
Not only that, but Eric Liddell was also a devout Christian.
University and a Successful Athletic Career
In 1920, Liddell moved to Scotland and studied science at the University of Edinburgh. At the university, his passion for sports continued to grow, and athletics and rugby became a huge part of his university life. He participated in the 100-yard and 220-yard races and played rugby for the University.
The media made stories of his athletic feats, and he became known for being the fastest runner in Scotland. News articles also stated that Liddell's athletic prowess was just the potential needed to win in the Olympics.
I have no formula for winning the race. Everyone runs in her own way, or his own way. And where does the power come from, to see the race to its end? From within. Jesus said, 'Behold, the Kingdom of God is within you. If with all your hearts, you truly seek me, you shall ever surely find me.' If you commit yourself to the love of Christ, then that is how you run a straight race ~ Eric Liddell

An amazing thing that happened in his career life and shocked the world was when Liddell withdrew from the 100 meters, his best and strongest race event in the 1924 Paris Olympics.
The reason–he had learned that it had been slotted to take place on a Sunday, and he couldn't compromise his Christian beliefs. He earned a lot of criticism and opposition due to the decision.

Many of us are missing something in life because we are after the second best, I put before you what I have found to be the best - one who is worthy of all our devotion - Jesus Christ. He is the Saviour for the young and the old. Lord, here I am ~ Eric Liddell
However, Liddell had made his choice and instead chose to speak at a church that Sunday and to try for the 400 meters, which was not his best race event.
His qualifying times for the 400 meters were not so promising.
On the morning of the Olympic 400-meter finals, someone handed Liddell a folded note from one of the team masseurs. When he opened it, he found a message saying:
"In the old book, it says: 'He that honors me I will honor.' Wishing you the best of success always."
He recognized the reference to 1 Samuel 2:30 and was profoundly moved that someone other than his coach believed in him and his stance.
Therefore the Lord God of Israel says: 'I said indeed that your house and the house of your father would walk before Me forever.' But now the Lord says: 'Far be it from Me; for those who honor Me I will honor...1 Samuel 2:30)
To everyone's amazement, Liddell won a gold medal in the 400 meters race, broke the world record, and took a bronze medal in the 200 meters event.

The secret of my success over the 400m is that I run the first 200m as fast as I can. Then, for the second 200m, with God's help, I run faster ~ Eric Liddell

People close to Liddell testified that his personal and moral convictions weren't born of religious piety but of a happy devotion to his Lord and Savior, Jesus Christ.
Marriage and Missionary Work in China
After his athletic career, Liddell returned to China and worked as a missionary.

We are all missionaries. Wherever we go, we either bring people nearer to Christ or we repel them from Christ ~ Eric Liddell

In China, he taught and spread the gospel to people who had not heard about Jesus. He also met and fell in love with Florence MacKenzie, a daughter of Canadian missionaries. The two got married in 1934.

With time, war broke out between the Japanese and communist Chinese forces. Liddell and his colleagues often risked their lives to help the wounded.

Life in China became increasingly riskier with the coming of World War II. Eric then asked his wife who was pregnant with their third child, to return to Canada.

The British government encouraged its nationals to leave, but Ladell considered it his duty to stay behind. He was then taken by the Japanese invaders and placed in a prison camp in 1943.
Despite the harsh conditions in the prison camp, constant threats to his life, and separation from his family, Eric Liddell remained committed to his faith and mission. He continued to minister as a spiritual leader and comforter to fellow prisoners.

Circumstances may appear to wreck our lives and God's plans, but God is not helpless among the ruins. God's love is still working. He comes in and takes the calamity and uses it victoriously, working out His wonderful plan of love ~ Eric Liddell

In 1944, Winston Churchill approved a prisoner exchange because he was a famous athlete, and Eric was granted freedom to return home. He, however, gave his spot to a pregnant woman. What a sacrifice!

As Christians, I challenge you. Have a great aim - have a high standard - make Jesus your ideal...make Him an ideal not merely to be admired but also to be followed ~ Eric Liddell
Impact and Legacy
As a successful athlete and missionary, Eric Liddell gained worldwide recognition for his unwavering dedication to faith, career, and commitment to serving others.

His story demonstrates the power of belief in God, determination, and perseverance, to achieve one's goals and purpose, even in the face of challenges and criticism. Today his athletic achievements continue to inspire upcoming athletes.

Eric's story was chronicled and documented in the movie "Chariots of Fire." And his legacy lives on through the Eric Liddell Centre (a charitable organization) in Edinburgh, Scotland, to serve the community.
Want to learn more about faith in God? Contact us today at Westside Bible Chapel through our website contact form or Facebook page.
---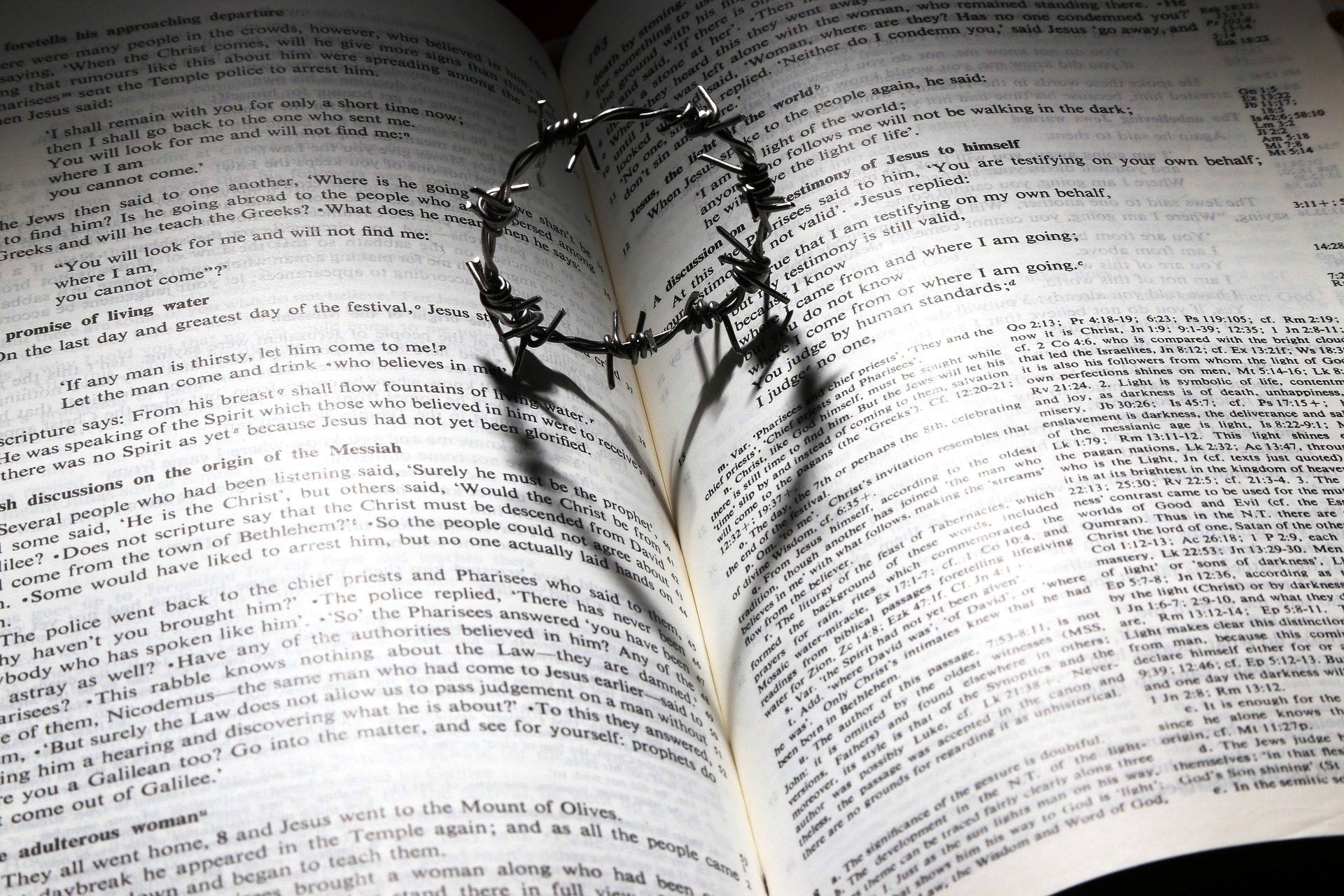 Good Friday is an important day for Christians because it commemorates the crucifixion and death of Jesus Christ. Thus, reading and reflecting on Bible passages talking about the death of Jesus helps deepen our understanding of the significance of Good Friday and the sacrifice that Jesus made for all of us.

Here are some scripture suggestions you can read on this day to reflect on the event's significance.

1. Isaiah 53:1-12 — The passage contains the prophecies attributed to the prophet Isaiah on the coming Messiah, his suffering, and death on the cross.

2. Psalms 22 — Presents a prophetic description of the suffering and death of Jesus on the cross.

3. Matthew 26:26-29 — This Scripture is about the Last Supper, the final meal that Jesus and his disciples shared in an upper room in Jerusalem. Jesus told them to eat His body and drink His Blood. It provides the scriptural basis for the Holy Communion often commemorated by Christians.

4. Luke 23:26-49 — This passage discusses Christ's Jesus to the cross, his crucifixion, and death.
5. Mark 15:21-41 — Describes the events of the crucifixion and the events immediately following the death of Jesus.

6. Matthew 27:27-66 — The verses describe all the events leading to the crucifixion of Jesus, His death, and burial.

7. John 19:16-30 — These verses describe the actual crucifixion of Jesus, his final words, and his death.

8. Romans 5:12-15 — Describe the contrast between death as introduced by the sin of man, Adam, and the reign of life introduced by the sacrifice of Christ.
9. Hebrews 2:9-11 — Tells how Jesus suffered through death for every man to be saved; and as result, He was crowned with glory and honor

10. 1 Corinthians 1:18-31 — This scripture passage talks about the message of the cross and its significance for believers.
Want to learn more about the crucifixion and Resurrection of Jesus? Contact us today at Westside Bible Chapel through our website contact form or Facebook page.
---