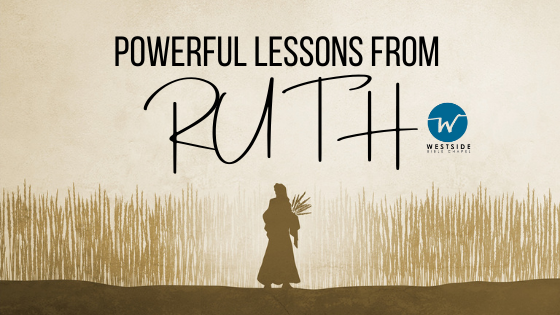 The Bible records faithful women who played significant and powerful roles. Scriptures honor their lives through the faith, boldness, and courage they demonstrated. Undoubtedly, there's a lot we can learn from.
In this blog post, we invite you to learn and be inspired by the story of Ruth.
The Story of Ruth
Dedicated to an entire book of the Bible, the story of Ruth is captivating to read.
Elimelech, his wife, and two sons from Bethlehem, Judah, went to live in Moab for a while after their land suffered a famine.
While there, Elimelech died, and Naomi's two sons married Moabite women.
This is where we meet Ruth and Orpah.
However, in about ten years, Ruth and Orpah became widows as Naomi's two sons also died.
Soon, Naomi heard that God had provided for his people and decided to go back home.
According to scripture, Naomi told her daughters-in-law to go back to their homes and prayed for them to find homes with other husbands.
Now, this is where the difference between Ruth and Orpah sets in. While Orpah kissed her mother-in-law goodbye, Ruth decided to cling and stick with her.
But Ruth said: Entreat me not to leave you, Or to turn back from following after you; for wherever you go, I will go; and wherever you lodge, I will lodge; your people shall be my people, And your God, my God. [Ruth 1:16]
Ruth was determined that only death would separate them (v17), so Naomi stopped urging her to go back.
Both Naomi and Ruth return to Bethlehem, where a hardworking Ruth finds herself working in a field belonging to Boaz. Afterward, Naomi went on to play a huge role in Boaz (her relative) marrying Ruth.
4 Powerful Lessons from the Story of Ruth
#1. Hope can arise even in devastating life situations
Both Naomi and Ruth lost their husbands in Moab. It's a painful thing to lose a loved one. And, after they returned to Bethlehem, starting over was not easy for them.
So Ruth the Moabitess said to Naomi, "Please let me go to the field, and glean heads of grain after him in whose sight I may find favor." [Ruth 2:2]
It's important to note that Ruth, even in a new place, was confident to act out in faith and go find food for both of them.
Her taking a step of faith worked out well for her because Boaz treated her with favor and asked other people in the field to
She did let hopelessness and despair win.
The lesson: Even in situations that look and bring hopelessness, we should rise in faith towards a hopeful future.
#2. Our pasts cannot define us
The fact that Ruth was a Moabite already made her an outcast.
Moabites, a nation that resulted from an incestuous relationship between Lot and his oldest daughter, were a pagan nation and did not worship God. (Read Genesis 19)
Irrespective of her origin, Ruth pledged her loyalty to Naomi and her God (Your God will be my God). Now Naomi goes down in record in the genealogy of Jesus.
Then Peter opened his mouth and said: "In truth I perceive that God shows no partiality. But in every nation whoever fears Him and works righteousness is accepted by Him". [Acts 10:34-35]
The Lesson: God will accept and use a person who chooses to believe in Him for His purposes.
#3. Sharing our faith can help create long-lasting and impactful relationships
It's amazing to see the impactful result that Naomi's faith in God had in Ruth.
After finding herself in the family of Naomi, Ruth learned about the God of Israel and decided to believe and worship Him. For her, there was no turning back about this decision. Her mind was made up.
The lesson: By sharing our faith with others, we get an opportunity to create deep and intimate relationships that help us fulfill our purpose and glorify God.
#4. The right decision is not always easy
It's never easy to do the right thing. It must've been a difficult decision to make for Ruth to leave behind the life she knew in Moab.
Remember, Naomi had released Ruth to go back to her family and people.
She could have made an easy decision to go back as Orpah did.
But she stood her ground by deciding to go with Naomi and serve the God of Israel.
It was a sacrifice and a selfless act to leave her family and go with her mother-in-law to a new land and start anew.
The lesson: Sometimes, in our faith walk, we may have to make sacrifices, courageous and difficult decisions. With the Holy Spirit guiding and leading us, we can trust that the end results will be awesome, as we see in the case of Ruth.
No matter what situation of life we may be in, through the leading of the Holy Spirit, we can arise in courage, strength, empowerment, and boldness to fulfill our designed purpose in God.
Want to learn more about Faith in God? Contact us today at Westside Bible Chapel through our website contact form or Facebook page.
---
Worship is an essential powerful part of a believers walk with God. We receive many benefits when we choose to worship God in faith, despite our feelings.
Worship:-
Acknowledges the presence of God
Brings victory
Deliverance from enemies
Strengthens our faith
Brings us close to God
Brings joy and satisfies the soul
God wants worshipers before workers; indeed the only acceptable workers are those who have learned the lost art of worship. – A. W. Tozer
In our last blog post, we started a 2-part series on easy ways we can apply to worship God daily.
(Check part 1 on our blog, under resources)
And, welcome to Part 2 where we'll discuss a few more ways we can worship God.
#6. Worship through cheerful and generous giving
Giving is an act of worship to God. Through giving, we acknowledge that all we are and have is from God.
Giving, be it our time, gifts, and abilities is an invitation, a privilege, an honor and partnership with God to fulfil his purpose on earth.
For even the Son of Man did not come to be served, but to serve, and to give His life a ransom for many (Mark 10:45)
When we give, we are following the example of God our Father who gave His son to come and die for our redemption. We are also following the example of Jesus who laid down and gave his life as a ransom for the world.
If we follow Christ, we must excel at giving. We are to be willing and cheerful givers as an expression of the love we have for Jesus.
#7. Obeying God
We express love to God and worship Him through obedience. Doing so shows that He is the Lord over our lives.
Obedience should always follow the reading of His word.
By this we know that we love the children of God, when we love God and keep His commandments. For this is the love of God, that we keep His commandments. And His commandments are not burdensome. (1 John 5:2-3)
Teach me, O Lord, the way of Your statutes, and I shall keep it to the end. Give me understanding, and I shall keep Your law, Indeed, I shall observe it with my whole heart (Psalms 119:33-34)
I must take time to worship the One whose name I bear – Oswald Chambers
Remember the Bible says, we are to be both hearers and doers of the Word (James 1:22)
#8. Loving yourself and loving other people
Worship God by loving yourself as well as other people.
Loving one another makes us vessels that demonstrates God's love to our spouses, children, parents, friends, coworkers, as well as strangers.
Love others by volunteering or being a part community service events. Going on mission trips, praying for others, spending time with someone who needs it, doing nice things for them, and more.
#9. Confession and repentance
As believers, we have the privilege to confess our sins and receive forgiveness from God.
If we confess our sins, He is faithful and just to forgive us our sins and to cleanse us from all unrighteousness (1 John 1:9)
However, sometimes confession of sins and repentance is difficult and results to shame and guilt.
Try to always confess your sins into your prayer time, or as soon as you are aware of them. You can also ask the Holy Spirit to reveal anything that doesn't please Him.
#10. Walking in the Spirit
Yielding to the Holy Spirit every day is a way to worship God.
In Galatians 5:16, the Word of God encourages us to Walk in the Spirit. This means, accepting to be led of, keep in step and bear fruit through the Holy Spirit.
Remember: God is Spirit and those who worship Him must worship in Spirit and in Truth (John 4:24)
What are some ways you do to worship God? Share with us in the comments section.
To learn more about worship, talk to us at Westside Bible Chapel. You can reach us through the contact form on our website or message us through our Facebook page.
---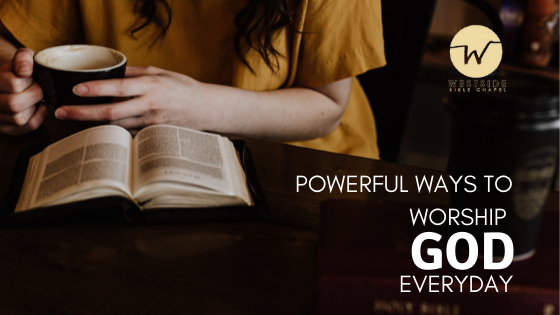 As believers, worshipping God—having and flowing with an attitude of lowly submission to His authority, might, power, faithfulness, provision—should be a lifestyle.
God is worthy of our worship because He created all things.
As written in Revelation 4:11, God is worthy to receive glory and honor and power for He created all things, and by His will they created and have their being.
It's only because of Him that we live and move and have our being.
Well, it's easy to worship God when gathered with others in a physical building on a fine Sunday morning. Also, worship is not limited to singing praises to God. So, how can we worship God all day long amidst tight work schedules?
Here are some ways you can do every day to worship God.
#1. Start your day with God
Before getting about any other daily activity, we can worship God by starting our day with Him through acknowledging His sustenance through the night, yearning for His voice and leading for the day - committing our day to Him.
I lie down and sleep; I wake again, because the Lord sustains me (Psalms 3:5)

In the morning, LORD, you hear my voice; in the morning I lay my requests before you and wait expectantly (Psalms 5:3)

Commit to the Lord whatever you do, and he will establish your plans (Proverbs 16:3)
#2. Worship God through praise and thanksgiving
The Word of God calls us to praise and give thanks to God. This is something we can do daily in worship of God.
Therefore by Him let us continually offer the sacrifice of praise to God, that is, the fruit of our lips, giving thanks to His name (Hebrews 13:15)

Praise the Lord! Praise the Lord, O my soul! While I live I will praise the Lord; I will sing praises to my God while I have my being (Psalms 146:1-2)
Praise God by telling Him God how great He is, thank Him for His creation, praise Him for His love, His forgiveness, His goodness, His patience, His abilities, His help, and more.
#3. Read and Meditate on God's Word
Another way to worship God every day is by learning and meditating on God's Word.
But his delight is in the law of the Lord, and on his law he meditates day and night (Psalms 1:2)

All Scripture is given by inspiration of God, and is profitable for doctrine, for reproof, for correction, for instruction in righteousness, that the man of God may be complete, thoroughly equipped for every good work (2 Timothy 3:16)
#4. Worship God through prayer
Going to God in prayer by faith is another form of worship that brings us closer to Him.
Draw near to God and He will draw near to you (James 4:8)
It shows our humility before him. We can pray silently or loudly. We can pray by ourselves or with others. We can pray at any time of the day or night.
Then He spoke a parable to them that men always ought to pray and not lose heart… (Luke 18:1)

Watch and pray, lest you enter into temptation. The spirit indeed is willing, but the flesh is weak (Matthew 26:41)
#5. Express yourself in physical movement
We can use the following actions as a form of worship to God.
Bow down - Come, let us worship and bow down, let us kneel before the Lord our Maker (Psalms 95:6)
Singing - "Make a joyful shout to the Lord, all you lands! Serve the Lord with gladness; Come before His presence with singing." (Psalms 100:1-2)
Clapping - Clap your hands, all you nations; shout to God with cries of joy ( Psalm 47:1)
Lifting hands - "I will praise you as long as I live, and in your name I will lift up my hands."( Psalm 63:4)
Playing instruments - Praise the Lord with the harp; make music to him on the ten stringed lyre. Sing to him a new song; play skillfully, and shout for joy." (Psalm 33:2, 3)
To learn more about prayer, talk to us at Westside Bible Chapel. You can reach us through the contact form on our website or message us through our Facebook page.
---