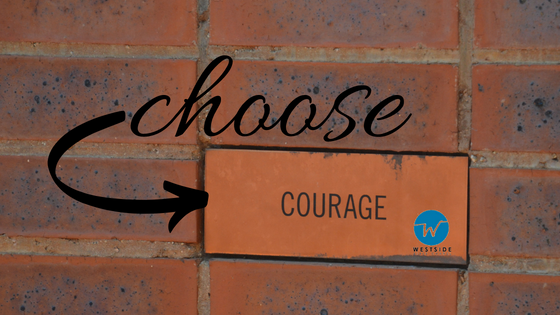 Courage is a key and glorious virtue. In Joshua 1:6, after the death of Moses, God said to Joshua that he needed to be strong and of good courage.
In the verse that follows verse (7), God again says to Joshua, to be strong and very courageous, so that he could observe to do according to the law as Moses had spoken to the Israelites.
The same command is seen again in Joshua 1:9,
Have I not commanded you? Be strong and of good courage; do not be afraid, nor be dismayed, for the Lord your God is with you wherever you go.
It's clear from the Bible that believers should exercise courage. Obeying the leading of the Holy Spirit and fulfilling purpose and assignments from God requires that we be bold and courageous.
Becoming Courageous
Often, we meet with numerous obstacles and problems that easily discourage us.
So, how does one become courageous?
1. Know that God is With You
We take courage when we know we aren't on our own. That God, the Creator of the heavens and the earth is always with us. That was His promise to Joshua, saying,
…don't be afraid, for the Lord your God is with you wherever you go (Joshua 1:9)
As the Israelites were leaving Egypt, God said to them the following,
Be strong and courageous. Do not be afraid or terrified because of them, for the Lord your God goes with you; he will never leave you nor forsake you (Deuteronomy 31:6)
This is God's promise to every believer. It's written,
"…and lo, I am with you always, even to the end of the age." (Matthew 28:20

For He Himself has said, "I will never leave you nor forsake you." (Hebrews 13:5)
2. Through Faith
Courage is produced by our faith. Faith is believing in God, knowing He is, what He can do, what He has promised in His Word, and following how He has dealt with people who believed and trusted him in the past.
Faith to believe in God and His promises comes by hearing and listening to His Word.
So, then faith comes by hearing, and hearing by the word of God (Romans 10:17)
When you have faith in God's power and His word, you gain confidence and courage that He can be trusted and cannot fail.
There are people who showed courage in the Bible, such as David.
David always sought-after God and His word, which fueled his faith, confidence, and courage. It was because He knew God is trustworthy and powerful that he would face Goliath and other challenges with extreme courage and boldness.
He believed God is always with him, and as a result, he wouldn't fear.
Yea, though I walk through the valley of the shadow of death, I will fear no evil: for thou art with me; thy rod and thy staff they comfort me. (Psalms 23:4)
When he felt heartless, he encouraged himself in the Lord and in His word, reminding himself that He can succeed against anything if God is with him.
For by You I can run against a troop, by my God I can leap over a wall (Psalms 18:29).
Do you feel hopeless and need encouragement? Contact us today at Westside Bible Chapel through our website contact form or Facebook page.